My recent article about What to do if your Home Buying Budget is under $500,000 resonated with lot of people and as a result of the response, I decided to follow up with more articles showing you where you can buy a good home on a decent budget. Although you can search this website and find factual pages about each neighbourhood in Mississauga, I wanted to write this piece as if we were sitting down together for a cup of coffee, and tell you my personal thoughts about each area. In this instalment, let's turn our focus on why you should live in Meadowvale.
Why Meadowvale?
I wanted to start with Meadowvale because it's one of the best kept secrets of Mississauga. It has always less thought about when compared to  more popular communities such as Streetsville, so if you ever have heard of Meadowvale, you probably didn't hear anything that stood out. In fact, when I was a kid growing up in Erin Mills in the 80s and 90s, I believed the same thing. My experience was that Meadowvale was a community located in the north west section of the city, surrounded by farm fields. At at a time when most other neighbourhoods in Mississauga were also affordable, most people chose to live closer to Toronto or the lake.
'Why You Should Live in Meadowvale' continued below
Young Families are Changing the Scene
Fast forward 20 years, and Meadowvale has been experiencing a rebirth and a new energy. Many of the original owners are cashing out and moving away, while hundreds of young families are moving in. Over the last 5 years, I have watched countless homes receive new love with exterior facelifts and dumpsters placed in driveways while kitchens and baths are being gutted and updated. Prices have risen dramatically but they are still affordable compared to the rest of the city. Given the development on the Meadowvale Business centre and improved transit links has meant that Meadowvale has only just begun to rise in desirability.

It is a high density area, with many apartment rentals and condo town homes. What you will see though, if you drive around, is that they are extremely well maintained. Many of the apartments have received the modern glass balconies and full gardens have been planted throughout. The owners of Meadowvale have a fresh energy and desire to make it the best it can be.
Are You Feeling a little Cramped for Space?
One of the best things about Meadowvale is the larger lots, endless walking trails and 2 lakes that are almost completely unknown to most. The new Meadowvale Community Centre serves as the centre of the community and is a strong example of modern planning and design.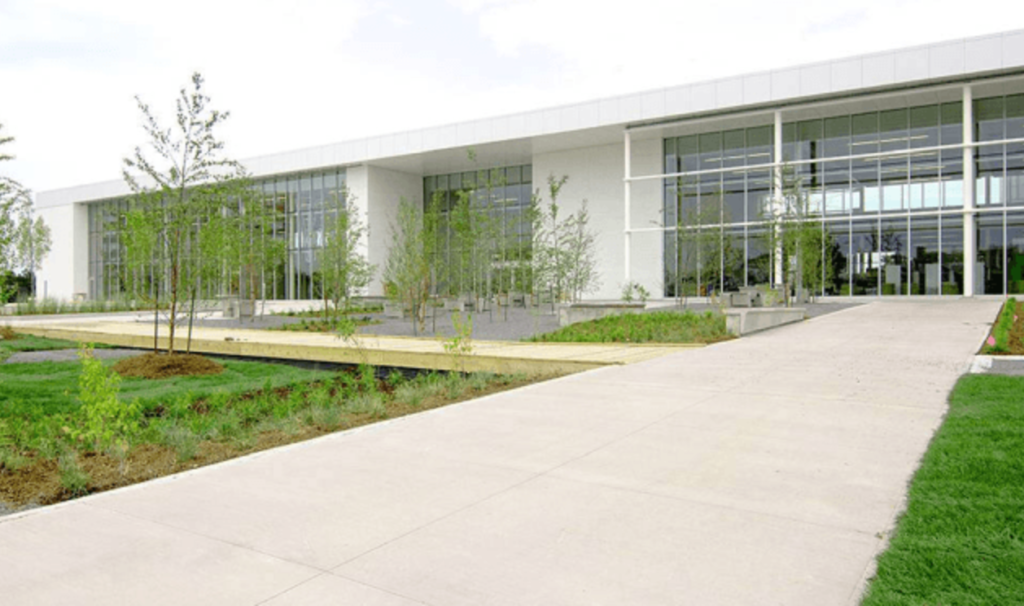 Nestled on the edge of lake Aquitaine, you can take advantage a fitness circuit around the lake. Bike trails connect you to Lake Wabukayne further south.
Newer Houses
Since homes in Meadwovale are on average 40 years old, many buyers who want a newer constructed home will pass on the neighbourhood. Located close by is the newer area of Lisgar, and although technically a different neighbourhood, Meadowvale and Lisgar enjoy the same amenities, parks and recreation. For instance, the new Union Park ocated at Aquitaine and Tenth Line is a fantastic spot for kids young and old, with ever-busy skateboard ramps, basketball courts, splash pad and playground. My kids have enjoyed playing Lisgar Fields for many summers, using the splash pad, sand pit and climbing gym. If you're looking to have an active outdoor lifestyle, Meadowvale is one of the best areas of the entire city to do so.
Meadowvale Schools
All of the schools in Meadowvale are fine, and no matter where you live in the community, your child can join clubs, participate in activities and get accepted into any University with the right marks. But there are a few little know advantages to the south east end of Meadowvale. If you live east of Glen Erin and South of Montevideo, which is quite a small section, your child is eligible to attend Streetsville Secondary School which has always performed well year over year. If you live south of Montevideo road and east of Winston Churchill, your child can attend St Aloysius Gonzaga, which year after is a top school for all of Mississauga. And any student can apply to attend Catholic High School, it is not restricted to those in the Catholic School Board.
Meadowvale Demographics
One of the best things I love about Meadowvale is that it's a warm, welcoming place for all. I personally don't think it's ideal when neighbourhoods are heavily populated by any one ethnic group; be that Europeans, Asians or any other group. Meadowvale is mix of many cultures including Portuguese, Eastern European, West Indian, Middle Eastern, South East Asian, Latin American and long time Canadian.
Is My Bias Showing?
Yes, I am a little biased about Meadowvale, because this is where I call home…for the same reason you might decide to call it home too. At the time we bought as a couple, we weren't thinking schools, or trees, or big backyards, or quiet streets. We just wanted to own something. However, now that I have children, the benefits of this area keep growing. My wife and I have friends in Burlington, Oakville and other areas of Mississauga, and we are the only family who can send our kids outside to find neighbour kids to play with until dinner. It reminds me of my childhood and I'm so happy my kids get to experience it as well. We thought we'd be in and out of Meadowvale in 3 years, and 10 years later, we are the ones welcoming the new young families on our street.
So this article is not just what I know as a real estate broker, but what I know as a resident. I have no regrets living here, and getting to know all of the wonderful friends and neighbours we have met along the way. So if you're a young family, perhaps willing to roll up your sleeves to do a little cosmetic work on a home, Meadowvale is a great option for you.
https://thevillageguru.com/wp-content/uploads/2018/01/Why-Live-in-Meadwovale-Mississauga-social-cover.png
628
1200
The Village Guru
https://thevillageguru.com/wp-content/uploads/2017/11/VG-Logo-Header-.png
The Village Guru
2018-01-25 18:30:16
2018-11-16 13:57:29
Why You Should Live in Meadowvale