No matter how the real estate market is performing, well maintained and upgraded homes sell for more than similar homes that aren't upgraded.
The challenge for a home seller is that not all upgrades are created equal, and it can be hard to know what upgrades and improvements are worth the investment.
If you're like many other home owners preparing to sell, you may have already completed some of the upgrades on this list, which means you're already several steps ahead. Most of these upgrades are not big jobs, rather they're the small jobs that you can do over time.
When you combine strategic upgrades with home staging, you will create an atmosphere that will have buyers lining up to buy your home.
If you're looking to sell your home in the future and interested in investing in your home for a better return, read on as we share the Top 10 Upgrades to increase the value of your home.
List of Top 10 Upgrades to Increase the Value of Your Home
10) Spiff-Up Your Driveway
If your driveway asphalt is in good repair, nothing makes it 'pop' like a new top-coat. It dramatically impacts your curb appeal and makes a great first impression on how you take care of your home. If you share your driveway with a lazy neighbour, do yourself a favour and do their side for them as well, you don't want it to look like you have neighbour problems.
If you have interlock brick, re-level and repair any wobbly bricks. Remove all weeds so there isn't greenery growing in the cracks. Both of these jobs are weather-permitting, but they do help make a good first impression. If it's too cold to tackle your driveway before you're ready to sell, never fear, the inside of the home is what matters the most to the majority of buyers and that's why your driveway is on the low end of our list.
9) Patch Holes in Drywall
Over the decades, pictures have moved and left anchor holes behind, a hockey stick sliced the wall, and moving the sofa left a dent in the hall. As you might guess, painting is also on the list, so go ahead now and patch all the holes scattered over all the walls. Sand and prime so that you're ready for paint. If you don't know how, many painters will do this as part of their prep work. Most small holes can usually be filled with some putty, but if it's a bigger hole, the proper procedure should be followed. It's important that it's done well, so that the patch job is perfectly smooth to the wall, or else it will stand out once the paint goes on the wall.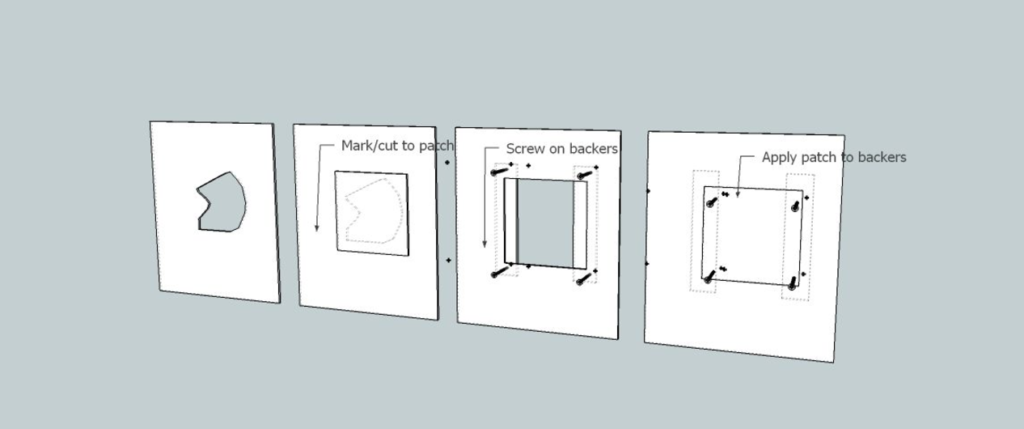 8) Clean Your Windows (In & Out)
The easiest way to make your home feel bigger and brighter is to open up your blinds and let the light shine through. Dirty windows block the amount of light that can come through, making your home feel dull. The best way to clean windows is 1:1 vinegar & hot water solution, and wipe off with newsprint. If you have kids, this have them help out and be part of the process!
7) Replace the Faucets in your Kitchen & Baths
Many homes still have builder basic taps that have lost their lustre. They can date the home and make your most important rooms feel tired. If your taps don't sparkle anymore, look for sales on some good quality, attractive pieces. Buyers want a home that feels new, even if it isn't. This small step of installing 3-4 new taps in your kitchen and bathrooms can cost as little as few hundred dollars and will be the finishing touch if you have nice counters and sinks. Find out more about bathroom upgrades.
6) Replace Door & Cabinet Hardware
I find that replacing door knobs and hardware can be a hard sell for a lot of home owners, but the impact is enormous. This one upgrade can literally take 30 years off the age of a home, I like to call this the botox of home staging.
Article continues below
Older cabinet handles are another culprit that dates a home. If they're plastic, wood, or a combination of wood and brass, it's time for them to go. Replacing the knobs on your kitchen cabinets is a very cheap upgrade that makes a huge difference on how old the house feels. My all time favourite is Silver Nickel, though antique gold and black are very popular as alternatives and will be here to stay for some time. Avoid the 1980's brass and antique rubbed bronze that can be found in abundance at the big box stores – but are already dated and falling out of vogue.
Replace This:
With This:
5) Kitchen Backsplash
It amazes me how many people still don't have a kitchen backsplash. To see drywall behind a sink or an oven is both impractical and unfinished. Adding a kitchen back splash one of the best ways to differentiate your home from the competition, and show your home to be more upgraded and stylish.
If your backsplash area is less than 25 square feet, I urge you to choose marble. Kitchens are the #1 most important room to buyers, so if you give them what they love, your home will stand out. Going high end on the back splash is especially effective in a smaller space, where the biggest cost of the job is the labour. It doesn't cost much more to use a better material and buyers will notice.
My suggestion is to choose the classic, always-loved, never-goes-out-of-style Calcatta, Carrarra, Statuario or Venetino Marble. Choose and interesting mosaic with subtle detail and variation, and you will have a backsplash that looks good for decades.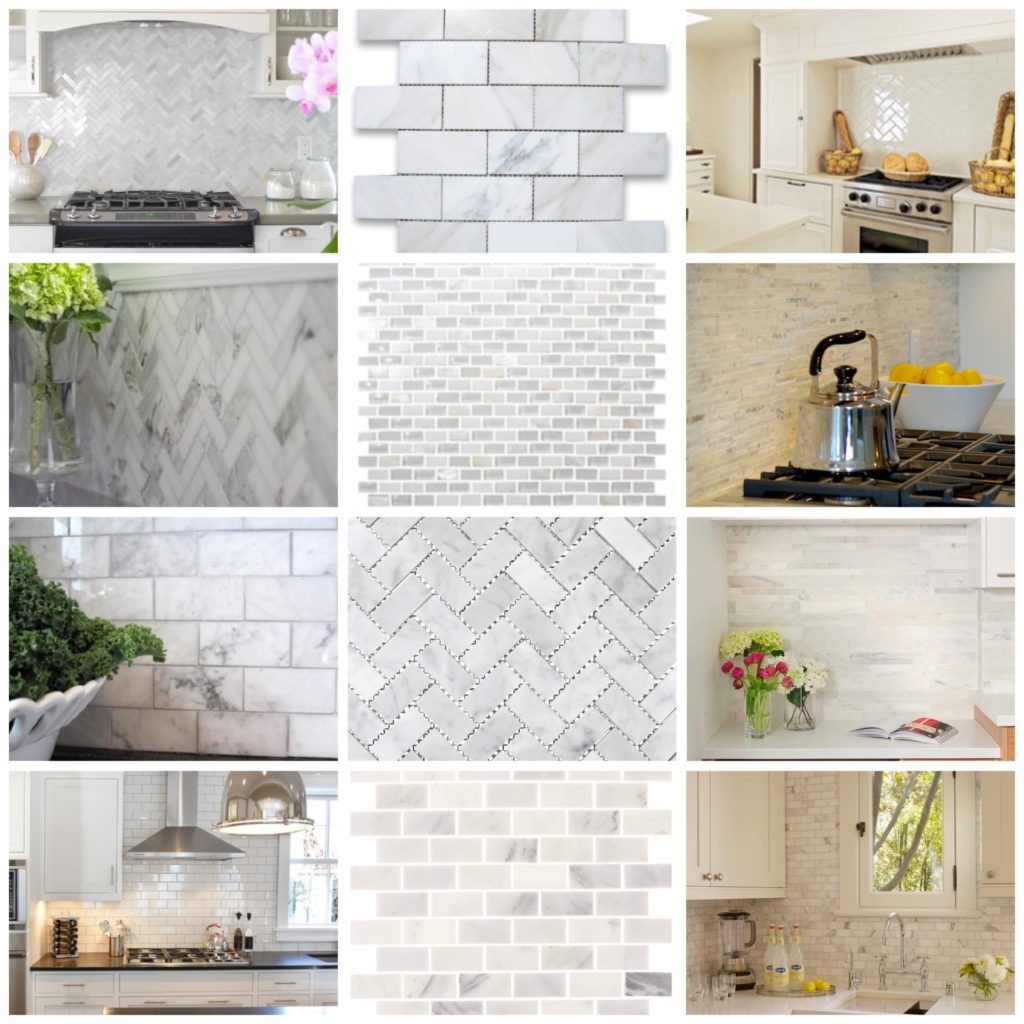 Photo Credits: unknown
If your kitchen backsplash is over 25 square feet, then I will concede that material cost might come into play a bit more. There are some new porcelain tiles that look like marble. If that doesn't work, you can't go wrong with simple white or cream subway tiles laid in an interesting pattern or in more modern dimensions. Budget should never stop you from getting the upgraded impact we're looking for.
Find out more about upgrading your kitchen to sell.
Photo Credits: unknown
4) Upgrade Interior Lighting
If you have light fixtures with 1 or 2 bulbs, try replacing them with a 3-light fixture. This upgrade isn't that expensive, and upgraded lighting goes a long way to increasing the value of your home. All homes feel darker than they should feel, unless you've already upgraded your lights. Flush mounts with a smooth clear bowl start around $25 and they're great for halls, bedrooms, and utility areas.
For more formal spaces, I recommend 3-5 light chandeliers to be used over any table, and you can get some really nice ones in the $170-$250 range. Many rooms are lacking architectural interest like quality moulding, built-ins or fireplaces. An elegant and eye-catching light fixture can often become the room's focal point for a small fraction of the price.
You always get 300% return on moderately priced options (not the cheapest, builder-basic, dime-a-dozen styles). Even if you don't know how to change light fixtures, I guarantee that if you ask around, you will find someone who does. Pay them or gift them for their time, it is well worth the effort.
Below are inspirational pictures; I know some of them are more than $250. In premier homes it's worth stretching to $500, but Home Depot, Rona and Lowe's are constantly bringing in better and better well-priced options. If you plan properly, and give yourself the time to order online, the sky is the limit for the beautiful lights you will find.
3) Replace Flooring
Upgrading your flooring is clearly a more expensive job than replacing door handles or cleaning windows. We only consider replacing floors if:
a) you have the funds
b) if the floor is in rather poor repair
c) only when we are certain (through market analysis) that you will make money for the effort.
It's not like the buyers would ever know that you even did the work, but if a floor is in poor condition, it can detract buyers offering on a home so it's worth considering.
The good news is if your tile is dated but neutral, or your wood is in good repair but is an older honey oak colour, we don't recommend changing it. However, if your floors are cracked, worn or out of date, we can provide options, including refinishing or replacing. As with anything we recommend, our goal is to ensure your home sells for a higher price than if you left the old floors. 
 Photo Credit Bottom Left: Parkyn Design

2) Replace Counters
Counters are the second surface that can make a big difference to the feel of the space. Luckily, a new counter is a lot cheaper than replacing floors, and combined with a marble backsplash, you can get real bang for your buck.
In executive homes we recommending installing stone counters, but only if the cabinets are in great condition and the kitchen is a good layout. Once you install stone, you should never need or want to replace it so if there's any possibility that the cabinets could be replaced in the near future, don't bother with a stone counter. Instead you should go with a more affordable option such as butcher block or laminate.
A good coloured laminate counter with no attached kick-back, combined with a gorgeous backsplash, can make any kitchen look elegant and livable, without having spent a fortune. If you want to read more about how we upgrade kitchens, click to read about a Kitchen Reno and our Top Kitchen Tips
Photo Credits: unknown
1) Interior Painting
And now, the number #1 thing you can do to make your home more appealing is to paint your walls and trim. Nothing makes your home feel fresh and clean like a new coat of paint!
At minimum, repaint all your trim and doors with a semi-gloss. Take that paint over your cabinets as well if your wood is looking shabby or dated. Then, paint any walls that need to be toned down; stick to soft greens, blues & taupes. This truly takes your home to a new level, it just gives your home a brand new feeling like nothing else.
We always recommend (and for our clients provide as part of our Home Staging services) a colour consultation to get the right colour for you home, because the colours should compliment your fixed elements such as flooring and cabinets. If you want to know about more paint colours we use often, check out our guide to choosing the right paint colour when selling your home.
Here are some of my favourite rooms that use these colours. I hope that this puts to rest once and for all the question about keeping everything beige. It actually misses the mark on creating that Top Dollar look. Below are soft shades of blue, and green and taupe that highlight the wood floors and make the white moulding pop. The more you can make your home look like a designer, model home, the better you will be. Again, it's not about spending a lot of money, its about spending a little money very wisely.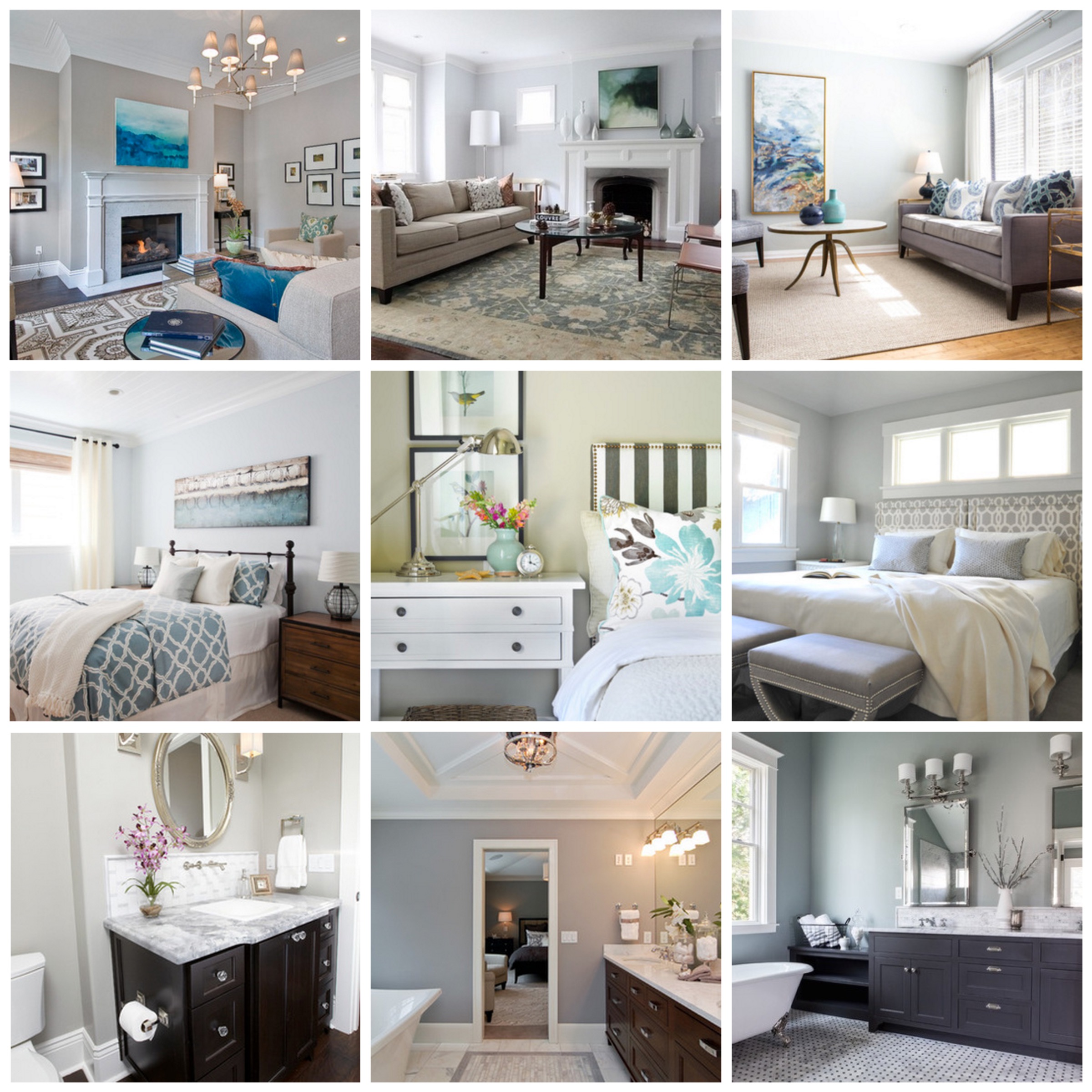 Photo Credits: unknown
Take Your Time & Make a Plan
Of course, if you decide you want to sell and have the home listed next week, there's very little chance you can complete most of the suggestions in this article. However, most people know for months before that they're going to sell so use this time to get ready.
We often work with clients for 1 to 4 months before the home actually gets listed for sale, as part of our standard fee. That's right, you pay no premium percentage for receiving hours of extra hands-on advice, planning and sourcing. If you want to go for a Top Dollar sale, I encourage you to contact as soon as you plan to sell, so we have the proper time to make a plan that fits your goals, budget and resources – at no extra cost to you.
We're here to provide the best service on the market and to get you the most money from the sale of your home. If a Top Dollar sale is what you want, then contact us to find out how we sell homes the better way.
https://thevillageguru.com/wp-content/uploads/2017/02/top-10-upgrdes-to-increse-the-value-of-your-home.png
1169
2048
Stephanie O'Leary
https://thevillageguru.com/wp-content/uploads/2017/11/VG-Logo-Header-.png
Stephanie O'Leary
2017-02-13 11:17:14
2020-05-11 20:34:41
Top 10 Upgrades to Increase the Value of Your Home