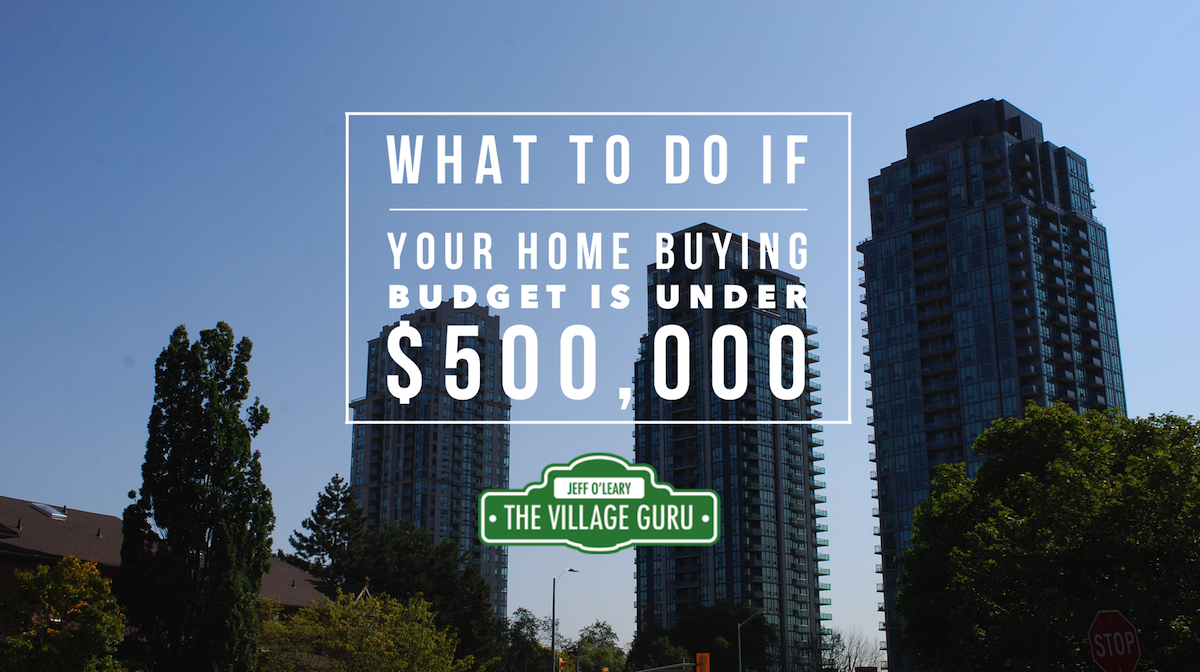 I received some good feedback about a recent article about home buying in the GTA, which confirmed home buyer's frustrations if you don't have a million dollars to spend on a home. There are tons of articles right now saying you should move to Hamilton, change jobs, or suck up the commute, but really, I don't think these are the best solutions for most people. Upheaving your life or suffering a terrible commute is not the kind of lifestyle I advocate if there are any other viable options. So what do you do if your home buying budget is under $500k…and you actually want to stay in the GTA?
Before we take a look at what I would suggest you buy in this market, we need to discuss two points about buying property that every first time home buyer must consider.
Point 1: Renting will Become the New Normal
Even though this market can be scary and unnerving for us Canadians, you have to step back and see how this has happened in countless other world class cities over the last 30+ years. Toronto and Vancouver are just the most recent additions to the list. Speak to anyone from Sydney, Melbourne, Berlin, London, Paris, Amsterdam, San Francisco, New York, etc., and you will see that most people rent; buying is just not an option. These people have accepted this about the city in which they live. Mark my words, in 1 or 2 generations, we will be in this scenario as well.
Now you must be thinking, how does this apply to me today? It's your generation –  today's typical first time home buyer, with a decent yet average salary, and a decent yet average down payment –  who may have the last chance to own a home in the GTA with relative ease.
Without access to significant sums of money or exceptionally high incomes, most people in future generations will be priced out. It has already started for those at the very bottom of the property ladder, thanks to the tightening of lending rules, so I urge you not to lose this opportunity if home ownership is something you want. Yes, you can live a perfectly normal life if you rent. Millions of people rent, they invest their money elsewhere, and they get on just fine. So this is not a plea for everyone to buy property beyond their means because they simply must buy. Not at all. This article is for the person who does want to own property and is probably very despondent that they wont be able to roll into a 3 bed detached home they way buyers did when our suburbs were first built.
Point 2: Why Are You Even Looking to Buy?
The main purpose of home ownership is to build equity. Yes, it's a roof over your head and a place to build family memories, but you can also achieve this by renting. After interest costs, maintenance costs and taxes, renting can be less expensive. So with that in mind, why do you even want to buy a home?
You should buy a home because you are looking to build equity and watch your asset's value appreciate over time.
It's critically important to focus on this fact, and prioritize your wish list. Yes, you may want the 2000 square foot detached home. But perhaps all you can afford (and need) is a 1200 square foot town home, because it will get you on the property ladder. It might not be glamorous, but this is the way the real estate game is played. Don't think for a minute that most people our parents' age are living in million dollar homes because they paid a million dollars for them. They started out small, made sacrifices, and by paying down the debt and gaining market appreciation, they were able to move up to the homes they are in now.
It's also important for me to touch on the fact that the type of home you can afford right now is NO reflection on you as a person or how successful you are, it's simply a reflection of the market. It's very easy to get frustrated about what others have been able to buy in the past for the same amount of money, or what your friends may currently own, but remember that many people higher up the property ladder were simply in the right place at the right time to take advantage of the given opportunities. It's hard (but critical) to focus on this moment and remember that the primary purpose of your first home is to start building equity.
Your guiding principle must be that this first home is a STEPPING STONE to future purchases. Getting to your ideal home will not be a 1 or 2 purchase process, so you need to move your expectations from the dream home wish list, to starter home asset. This purchase is about owning something for 3-5 years, building equity and appreciation, and then re-assess. This means purchasing a home within your means so that your budget isn't so stretched that you have to pull equity out of your home to pay bills. Pulling out your equity defeats the entire purpose of ownership. So any home that provides the minimum required living space, is solid and sound, and is well within your means, is a home you should consider. Only after those core needs are satisfied, should you be thinking about the physical characteristics of the home.
What I Would Buy if I were in Your Shoes
A Single Person:
 I would focus on getting the best kept, most affordable condo around downtown/urban areas. 1+ bed with hopefully a parking space and locker. Re-sale should be on the top of your mind, because chances are your life will be much different in 5 years and you want to ensure your home will appeal to the most amount of buyers.  Amenities, transit, safety, upkeep, desirability and quality all play a huge role in whether you made a sound investment in your future value. In Mississauga,
Port Credit
is already over this price range, but you can find quality condo's in
City Centre
,
Streetsville
, and by
Erin Mills
Town Centre. If you can extend a little further west to
Oakville
, consider the Uptown Core of River Oaks, Kerr Village, or Downtown Burlington off Brant Street. This will ensure that you have as much disposable income as possible, because it is important to also invest in other things like short term savings, RRSP's, TFSA's etc. Starting these young and maintaining your contributions is the best gift you can give to your future self.
A family of 2, maybe +1
You might not have kids YET, but if you are planning on having any within 3-5 years, you must take this into consideration before buying. I personally wouldn't focus on school areas just yet, because the goal would be to move up after 3-5 years. Also, unlike what a lot of websites say, there are very few (if any) terrible schools that will ruin a child for life. So I would focus on getting the best property I can for the best price so that I am not financially stretched. You may have a year of maternity leave or want to start putting money away in RRSP's or RESP's or bump up your medical plan. Get something that is JUST big enough for a family of 2 and possibly 3, that will leave you as much disposable income as possible.
Most important, do not fear the word condo. Focusing on a low-rise condo or a condo town home will make getting a baby out for walks and storing the strollers and baby gear much easier than an apartment. But if you can only afford an apartment, then that is what you can afford and you can make it work. (See commentary about storage at the end of the article). There are also many newer builds that are 2 bed, which will offer more affordability and is really all the space you need. Again, keep your cash flow as large as possible. Given your possible future expenses, a condo is actually a benefit because things like roofs and windows will be replaced without a huge up-front bill to you. I can guide you in how to determine if the condo corp is being run properly, and if you're worried about future problems, get on the board yourself. There are neighbourhoods across Mississauga, Oakville, Milton and Burlington that would work, and I can show you areas that have your desired amenities: transit, parks, shopping, etc.
A Family of 4+
If your budget is extremely tight, you can still buy a 2 bed with 2 kids if you want to be a property owner. You can buy a 3 bed with 3 kids. Your kids just need to share a room. This used to happen all the time; it's only when large suburban homes were so affordable that we all got used to separate bedrooms, and multiple living rooms and eating areas. My aunt grew up with 3 siblings in a 2 bedroom row house in Toronto. 6 people, 2 bedrooms…….now, that is NOT ideal, but the point being that you are not ruining your children if they have to share a room.
I personally have a 3 bedroom home with 3 kids and my father lives in an apartment in the basement. The real estate term would be "cozy & charming" lol. We spend a lot of time together, it gets loud and messy, but I've learned to be thankful for these times where I get to be close with my children. During the early years when my wife and I kept getting pregnant, while trying to build our business at the same time, we were certainly jealous of others who had corporate jobs and were buying large detached homes for $480,000. Our lives and income were too chaotic to be able to do it then. But now, I'm damn thankful I have a home and I wouldn't have it any other way. I'm also accepting the fact that the $480k house is now a $1 million dollar house and that's life. We're saving up for it and I'll let you know when we can go out and buy it. My wife will be so excited that she'll probably write her own blog series about it.
When buying smaller, the compromise is personal space. Since we all share a living area, we set rules like the kids don't sleep in our room and bedtime is a strict 8pm. This gives us boundaries and time together as adults. Now that our youngest is 4 and the baby gear is gone, the kids only have enough toys that will fit in their rooms. They can bring toys into the living room to play with, but they go right back to their rooms at the end of the day. This keeps the visual clutter to a minimum and we can feel like we live in a house and not a daycare. My wife is a designer, so she has found ways to work every available space for hidden storage and she LOVES to purge. We are always encountering new storage issues and we proactively find ways to solve them. IKEA loves us. And we make it work.
Hamilton, You Say?
If you really feel strongly about staying in the GTA because it keeps you close to work, or because you'll have more time with your kids, or your family support is near by, focus on taking a look at your lifestyle and what adjustments you are willing to make to stay here. Nothing is impossible, you just have to have the desire and a good plan.
Once you go through this exercise, you might realize that staying in the GTA is NOT the top priority you thought it was. There is a lot of opportunity growing from Hamilton to Niagara Falls, and if you can do it, you will do well. We are connected with Brokers throughout the region if you are curious about this option.
Taking the Plunge
This is not a market to try to DIY your home purchase. Working with a realtor to buy a home costs you nothing. But working with a great realtor can save you thousands of dollars and hundreds of hours of going in circles, endlessly searching at random, missing good houses because they sell quickly. Working with a great realtor, whom you can trust and who advises you effectively, well, that is priceless in this market. Do your research online to see who demonstrates a high level of knowledge, and meet with a few until you find someone you are comfortable working with. Any good realtor will meet with you without forcing you into a buyer representation agreement before you know if you want to work with them or not.
Now, you are ready to buy your next home and get on the property ladder!
---
Are you looking to work with a buyer agent who will provide you sound advice and a systemized approach to buying your next home? 
Tell us about your home buying goals how you want us to provide an experience that exceeds all of your expectations. If you're looking for real service, we're looking for you.
---
https://thevillageguru.com/wp-content/uploads/2017/01/What-to-do-if-your-home-buying-budget-is-under-500k-article.png
672
1200
The Village Guru
https://thevillageguru.com/wp-content/uploads/2017/11/VG-Logo-Header-.png
The Village Guru
2017-01-12 12:02:38
2018-11-16 15:55:58
What to Do if Your Home Buying Budget is Under $500k?