White Kitchens Win the Real Estate Equity Game
I wasn't planning on writing another article about kitchens (or white kitchens) this morning, because if you haven't read them yet, I've already written several kitchen articles that you can see here, and here, and here. My plan this morning was to go to houzz.com, and look for an inspiring picture that I could break down into its parts, to show you how to achieve a similar look in your home. So I chose to filter the photos by "all time popular", and this is what happened:
The top photo of all time was…….a white kitchen. Scrolling through the list, about 30% of all top photos were variations of white kitchens. So then, I filtered "top photos of a time for kitchens", and this is what I got: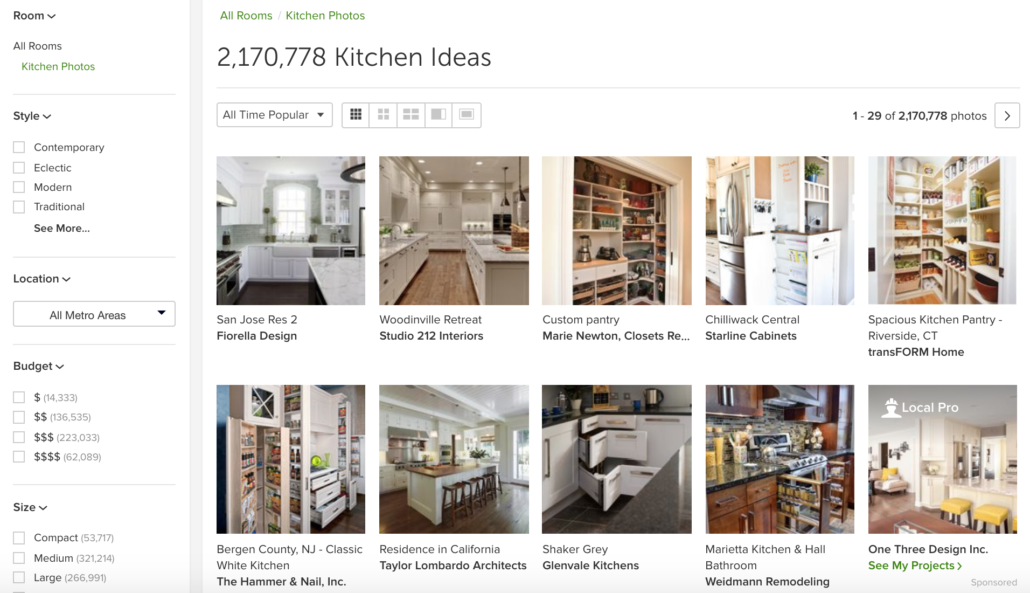 White Kitchens. White Kitchens everywhere. So where does that leave you if you don't love white kitchens? You are certainly not alone, I've heard the same concerns many times over: they mark easily, they always look dirty, white feels too cold and stark, white kitchens are bland and boring. What about these points? If you are designing for living in your home for the next 25 years, feel free to choose whatever makes you happiest. But if there is ANY chance you have even the SLIGHTEST notion of selling your home in the near future, choosing a white kitchen is without argument, the best investment you can make in your home. Read on to learn how to build a white kitchen you can enjoy, and capitalize on as much equity as possible when you do sell.
Building Blocks of White Kitchens for Resale
The Cabinet Style
The key to a successful door style is one that has a little detail, but not too much. Right now, slab doors (with no applied moulding) are all the rage in the design world, but this fad will pass. Before this, designers had an obsession with Tuscany, and for much of the early 2000's, ornate details and oil rubbed crevices were all the rage. Now, people sigh with disappointment when they see these finishes. The trick to longevity and universal appeal is to be interesting, without being too loud. This is why a simple shaker door wins every single time.
And you can still add different details depending on the overall vibe of your home. Add a bead-board detail – it looks a little country. Add frosted glass – it looks modern. Add mullions in an x-detail, you get a refined traditional feel. Any way you chose, this simple profile is the most universally appealing.
The key is to make it look like you spent a lot more money than you actually did, so be sure to step one level above the cheapest option, and then we'll dress it up later with some gorgeous finishes. There are some thermafoil options that don't look like really cheap plastic, IKEA Grimslov for example. However, if you can budget painted wood/MDF, that is always the better option than thermafoil. 
Avoid the Big Box Store cheap white thermafoil option, the one with the rounded edges, because everyone knows this is the cheap big box store option.
Where to Find Good Shaker Cabinets:
I don't want to give big box stores a bad wrap, they do have some very nice cabinet options. But if you know you're going to walk by their cheapest prefab option and can't resist the temptation, just don't go there. IKEA has a classic white kitchen that can be dressed up with amazing interior options. However, there are only so many sizes, so in a tight kitchen, you might lose a lot of inches to filler strips and dead space. If you have a more open layout, you can get great value with IKEA. It serves you best to search the industrial strip malls in your city for those small kitchen companies. There are an incredible amount of them and they know they are in high competition for your job. Often, you can get quite good cabinets for a very fair price.
Be sure to check for references and examples of past work – because pretty web photos can be purchased off stock photo websites, so get real references of real people.
The Cabinet Colour
When I say white, I don't necessarily mean pure white. I do love pure white, mixed with greys or navy blue. It's a beautiful look. Moreover, its the cheapest look because every store stocks white as a base colour; no need to custom paint anything. But, if you have other fixed elements that you have to work with, a taupe-white or grey-white might best. A kitchen consultation is always the best first step before you spend a dime, to ensure that you have a plan that won't go off the rails down the road. We offer this as part of our services, even if you're not thinking of selling for many months from now. If you are at all curious as to how we do this, feel free to send us an email or give us a call, and we can tell you more about it. 
How to Make White Kitchens Interesting with Added Colour
Option 1: Use white on all your outer wall cabinets, and then use a contrasting colour or wood on your island. This look has been going strong for over 10 years and shows no sign of stopping. It's an attractive option because its makes the kitchen feel less utilitarian and more like there's a furniture piece in the room. It warms up the white and provides contrast.
Option 2: Use a darker colour on all of your lower cabinets and use white on all your uppers and floor to ceiling cabinets. This is another look that, while some people worry is a trend, it seems to be sticking around. It keeps re-inventing itself with different colour combinations. In some situations, especially if there's a dark, unattractive floor that cannot be changed, it's the perfect solution to make the kitchen shine.
Option 3: Use 2 shades of grey or a mix of wood and white to break up a long boring wall. Accenting a beautiful range with a darker colour can create a stunning focal point. Or use the contrasting colour on a pantry area and the island. The more you learn to mix just a few different elements in a thoughtful way, you will end up with an amazing look that no one would ever think was for an economical price.
The Countertop
There are many options for counters, all depending on your budget. If your budget is very tight, we have written many articles, here, and here, about how to use laminate without disappointing buyers. But if you can budget stone, it's what buyers love. The same rule applies to counters as cabinet style. Try to find options that have some interest to them, without being too bland. A plain white, grey, or brown counter with no texture or variation at all can really let down the look of a kitchen. But then, some granites are incredibly wild in pattern and colour. The safest zone are the quartz options that subtly mimic stone patterns, with a subtle mix of shades, and veining or a mottled look. Here are some of my favourite quartz, most of which look like marble. If you want your counter to stand out against light cabinets, the options on the second row will add more drama and interest.
If you have an island, you can absolutely choose a different countertop, as this is another opportunity to make the kitchen feel warm and soft, instead of hard and utilitarian. For a tighter budget, you can opt for butcher block, especially if your island doesn't have a sink in it. A warm rich walnut tone will add warmth and contrast and will stand up well. It's tricker to successfully mix 2 stones, and we highly recommend a kitchen consultation if this is something you want to do; contact us for more information. 
The Backsplash
You only ever want to do a backsplash once. It is a pain to install and a paint to take out. Since it is on a vertical plane, it most definitely will catch the eye of the viewer. A lot of people go quite bold on the backsplash, as it is a natural focal point. But I will argue that because of its permanence,  you should stay away from too much contrast of colour or pattern. You spend ten times the amount on your stone counter than a backsplash, and so the counter should be the natural focal point; the piece of art that is the centre of the show. I always recommend choosing a backsplash that enhances your counter but doesn't fight it for attention.
For this reason, I steer people towards one of two options; marble, or an interesting cut ceramic. You will get a lot of texture and elegance, but avoid contrasting colours and bold pattern. You can absolutely choose a solid colour backsplash, stick to muted grey, taupe, grey-blue or green-grey, especially of you have chosen white cabinets and white veined counters. If you choose a dark counter, a white marble or ceramic will look beautiful. Getting the right combination can feel overwhelming, when there are so many options. We encourage you to take advantage of our kitchen consultation process, even if you are 4-6 months away from listing your home. Contact us today to learn more
Appliances
With a white kitchen, the best appliances are the ones you don't see at all. In this new world of open concept living, where the kitchen is open to the living area, we want the kitchen to feel as integrated and soft as possible. Imagine your laundry room on full display to your guests…..there aren't many people who would want their washer and dryer on display all the time. So why are dishwashers and fridges any different? It can be pricey to panel all of your appliances, although more an more options are coming out all the time. At the very least, aim to conceal your dishwasher, and if you can also hide your fridge, even better.
We Don't Need Stainless Steel Anymore
After going strong for 15+ years, I have been sick of stainless for at least 5, and the general public is slowly coming to the same conclusion. Black and white appliances have been reinvented with new finishes, and metals have moved to black stainless and more brown tones as well. The goal is to conceal as many of your appliances as possible, and allowing the oven/range to be your strong focal point area. This means you can have a stunning black or stainless range, with a white fridge tucked inconspicuously into a bank of white pantry cabinets. Think outside of the big box store "sets".
Use "colour camouflage" to conceal what's not pretty, and "colour contrast" to highlight what you want people to look at
Especially in smaller spaces, even an all white suite with white cabinets do a better job at making the kitchen look big, instead of chopping the cabinets up with blocks of stainless steel.
Sinks, Faucet & Door Handles
Here is another area where you can branch out of white metals like chrome and nickel. Yes, it does look nice with white cabinets, and if you love it, you can absolutely do one of these finishes. If you have chosen some stainless appliances, using white metal for at least the faucet is a good way to repeat common elements.
Sinks
They have come a long way, and a newer option is a granite sink. They maintain their look better than stainless steel, and can blend into their surroundings, allowing a gorgeous faucet to sparkle and draw attention. Along the same vein is a white farmhouse sink that blends into a white counter and allows the eye to flow easily around the room without interruption.
Faucets & Door Handles
I like to speak of these as a set, because it's the nicest look when both of these are the same material. They are small but impactful elements dotted all over the kitchen, so repetition of material helps to avoid a chaotic or mix-mashed look. If you are still loving white metal, then choose chrome or nickel faucets and handles; they are more appealing looking than flat stainless. It will help them to stand out and look elegant.
If you are growing weary of white metal, chose a flat black. Not oil rubbed bronze, not copper aged black, or any rubbed finish at all. A solid flat black. this will ensure it looks timeless and YES, choose a black faucet as well, the same flat finish as the door handles.
Gold is popular for now, and I truly love it, but I can't in good faith recommend it since in 5-10 years, I think it will look just as dated as the brass from the 80's. But take a look that this picture anyways, because it is gorgeous. If you were willing to change the handles down the road if need be, then it's still worth enjoying for now. 🙂
Summary
A kitchen project is a huge job, even if you are keeping the layout and just focusing on finishes. By breaking down all the decisions into step by step pieces, you can ensure you have created the best possible look for your life and for resale. We offer our design services months before you are ready to list your home, because we want to make sure the job not just gets done, but gets done RIGHT to command the most money. For home buyers who don't mind a little work, we also offer a program designed to find you the diamond in the rough! Ask us how!
https://thevillageguru.com/wp-content/uploads/2018/02/Why-white-kitchens-are-the-best-cover.png
672
1200
Stephanie O'Leary
https://thevillageguru.com/wp-content/uploads/2017/11/VG-Logo-Header-.png
Stephanie O'Leary
2018-02-12 13:22:15
2018-11-16 15:30:03
Why White Kitchens Are Best