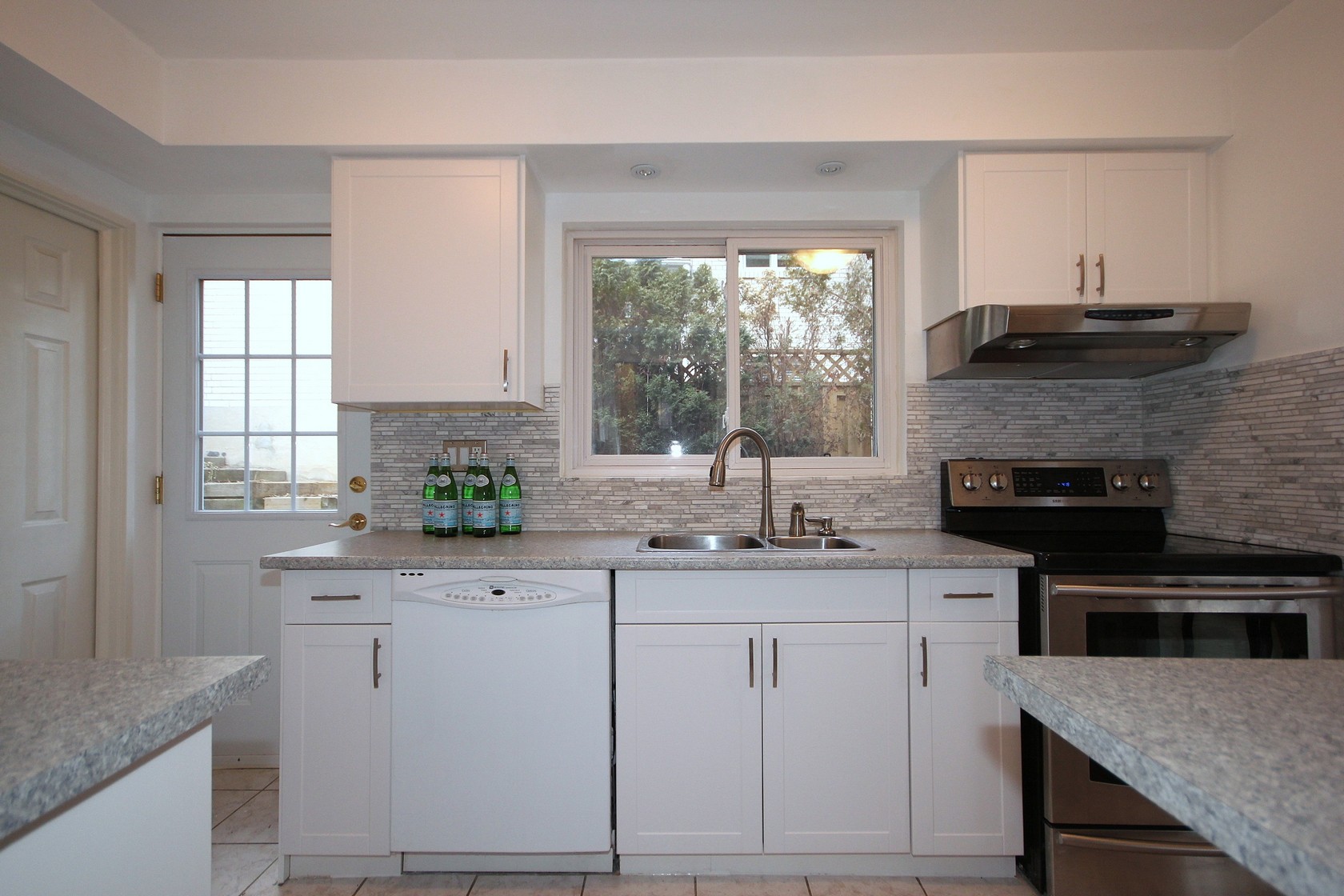 To this day, our client's home on Truscott is still a favourite because it was one of the more challenging projects yet also one of the most rewarding. The owners were split on whether they should sell the home as-is, or to invest in the home to try to bring up the sale price.They had bought the home 10 years earlier with the goal to upgrade, but then never did the fix ups. So, if they were to sell as-is, they'd mostly attract investors as it "felt" like there was too much work for the average family to tackle. We knew we could incorporate some of the top staging tricks to drastically improve the home's first impression, without spending 10s of thousands of dollars.
To decide to invest in the home is not a decision we take lightly, because it does involve your hard-earned money that you don't want to lose. So to help them decide, we brought in Stephanie, our team's designer, to develop a strategy of what upgrade to do to the house for the best possible return. In certain areas of the city, such as Clarkson / Lorne Park, a strategic investment can absolutely bring in great returns.  If we could bring the house up just enough to a level where we could attract homebuyers, we could get a much better price than if we were only attracting investors.
Our goal is to find the budget where we are confident you will see 2-3x return on your money. If it won't bring a solid return, we don't suggest it, because our business is not about being risky or hopeful. We implement our systemized approach to develop a strategy and budget that will ensure the kind of return on investment that's worth the hassle of construction and renovation. There is mess and stress that comes with doing work on your home, and it's not worth going through it, only to break even or worse.
The Challenges:
The owners already had a set budget that was limited, and given this, we always focus on kitchens and bathrooms first. They are always the most important rooms to the buyer because they are the most disruptive to update. That is also why when you decide to do the hard work yourself, these rooms provide the best return on investment. The kitchen was original, and given the budget, there was nothing we could do to change the layout. We needed to focus on making it as bright and modern as possible. This is what the the kitchen looked like before:
The original doors were falling off the frames and the contrast between the wood & cream was making the room feel smaller than it was. The counters and the backsplash tile detracted attention from the large window and neutral floors. The main bathroom also needed to be updated in an efficient way, since a re-design was not an option. We needed to work with the wood, and simplify the look. The rest of the house was painted in a yellow that hid the wood floors, and the furniture layout chopped the very large room into smaller, tighter rooms. The main floor had massive windows and a nice fireplace that were not being used as effective focal points.
Top Staging Tricks: Kitchen
We put 80% of their budget to revamping the kitchen. We refaced the cabinets with new doors and handles to create a universally appealing look: white cabinetry is the single most popular colour for buyers. Stephanie says don't be afraid of painting wood cabinets. "If you have honey oak or pickled pine wood cabinet, its not in your advantage to keep them wood, just because they are wood. A solid wood door painted white gives the buyer the best of both worlds; a good quality door that also looks modern and stylish. It truly is a win-win." In this case the doors were in too worn a condition to save, so we sourced a door re-facing company that was 1/2 the cost of replacing the entire cabinets.
 The new counter is still laminate, but it is "juiced" up with a marble backsplash. Stephanie only recommends installing stone when the cabinets underneath are of high quality and have a great layout. "When prepping your home for sale, only install stone counters if there is absolutely no reason why any buyer would want or need to change the cabinets. Buyers are not naive, and they won't appreciate or pay for stone when it's clear that the cabinets underneath are still old and will need replacing sooner or later."  The job we did here was an intentional face-life; make the kitchen nice enough to enjoy living with for the near future.
Steph's Kitchen Counter Design Tip: Stay out of Home Depot, their 5 counter choices are all rather unattractive and they always have the 3″ backsplash attached. That is the dead giveaway that the counter is laminate. Instead, go to an independent  laminate counter company that can make you a custom-fit counter that's flat just like stone. Then the key is to install a MARBLE backsplash to bring the counter up to a higher level. There are many different marble patterns that can come in at $10 per sq/ft or less. This combination of materials is far cheaper than a stone counter and creates the same effect. If the buyer decides to upgrade to stone down the road, the backsplash will not have to be replaced like it would with an old-style laminate.
Top Staging Tricks: Bathroom
There is a very fine line between "vintage" and "dated". Vintage can feel hip and cool, and dated can send buyers running for the hills. So our goal was to polish up the vintage elements of the bathroom and give it clean, well-maintained feel. Small details like new light fixtures, an elegant mirror, modern sink and some staging props turned this bathroom from looking worn out to looking livable.
The tiles in the shower had to be replaced, and so Stephanie worked with the contractor to take cheap ceramic subway tiles and lay them in an interesting way, as well as running them as a short backsplash along the sink counter.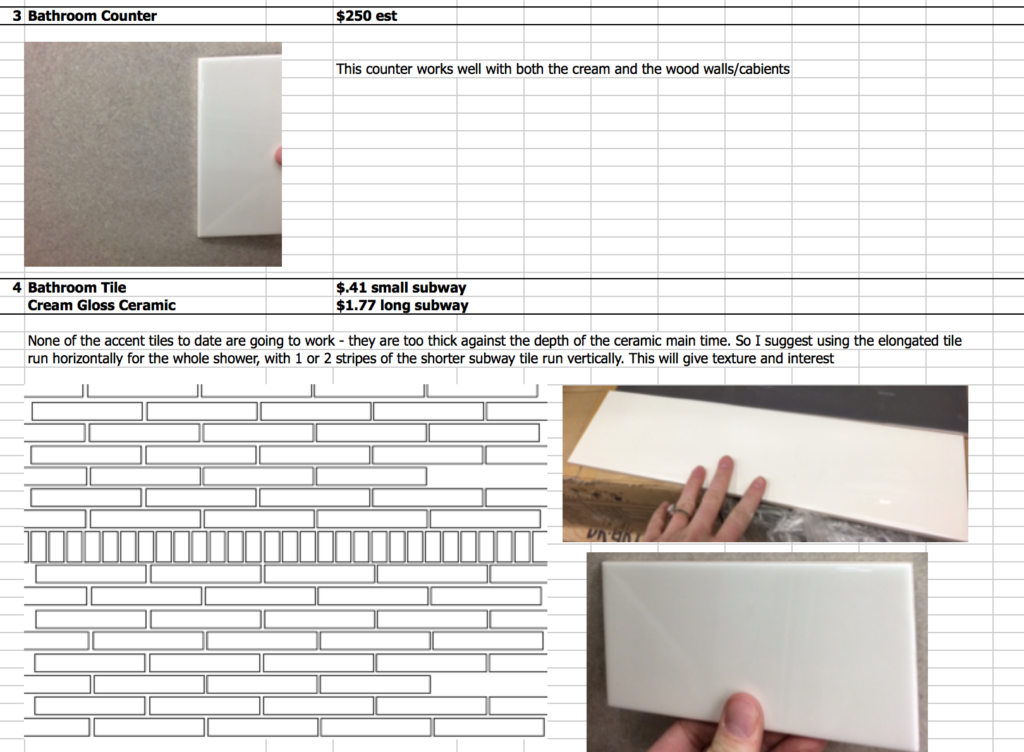 The Living & Dining Room
This area was a dramatic transformation because paint is a home sellers best friend. Nothing else makes your home feel more fresh, well-maintained and crisp. Is it a lot of work? Yes. Does it pay off 3x over? Always. Stephanie takes time to consider the best paint colours for each home given the fixed elements. "I don't tell everyone to paint their walls brown or grey." she says, "Now days, I can tell a staged home by the same tan-brown colour on the walls. It is important to ensure your paint colour highlights your best features like wood floors or stone tile. Often, hints of blue or green or even lavender bring your best features to life or help hide less desirable features. Paint is the biggest lost opportunity with home sellers and other stagers." Click on the photos to enlarge.
This grey blue was chosen because we couldn't refinish the floors into a more modern colour. We had to work with them and before, when the walls were yellow, the floor completely disappeared as a feature. Any wood floor is better than no wood floor, so we set the stage to make it look as good as possible and also brought in an accent wall and new lighting for more visual interest.
Stephanie's Paint Tip for Rooms with Wood Floors: I most often use a grey-blue whenever there is a wood floor. The shade I select changes with the colour of the wood floor, but that hint of blue always makes wood look rich. Why is this? All wood has a yellow to orange undertone. Colour theory shows us that blue is a complimentary colour, meaning it makes its opposite colour look more intense. A rich looking wood floor is always a good thing. In contrast, a brown wall colour often blends too much with the tone of the wood floor, making it look dull and less important as a feature. The trick is a HINT of blue, and if you saw the paint chips I select, you'd probably wonder how I see blue in it at all. Its a learned skill to choose effective paint colours that won't be too strong.
The Results
Overall, we were able to transform the look and feel of our clients home on a very tight budget, and we got them a 3.5 times return on their money invested, selling well over asking price. Here are a few more pictures of the home after it was staged, which included artwork, small furniture, bedding, cushions and accessories.
---
Are you interested in working with us to sell your home for Top Dollar? We are always looking to work with eager, positive-minded clients
Tell us about your home to sell and how you want us to provide an experience that exceeds all of your expectations. If you're looking for real service, we're looking for you.
---
https://thevillageguru.com/wp-content/uploads/2016/11/Kitchen-4.jpg
1120
1680
The Village Guru
https://thevillageguru.com/wp-content/uploads/2017/11/VG-Logo-Header-.png
The Village Guru
2016-11-21 12:00:13
2018-11-16 18:23:58
Top Staging Tricks: Refresh your Kitchen & Baths