The Right Paint Colour Helps to Sell your Home
Choosing the right paint colour when selling your home can be a big decision and a challenging task. I applaud every home seller who is willing to put in the effort to paint their home, because it is the single most effective activity you can do to make your home look fresh, modern, updated, and in good repair. Most owners these days know to eliminate rooms that are fuschia pink or lime green, but there's definitely more to the story. Many home sellers rush to the paint store and grab some form of brown or grey paint, and apply it to every wall. I've seen hundreds of listings and I can pick these homes out in an instant: the floors, the walls, and the furniture all blend together in an unfortunate sea of grey or brown camouflage . When everything is the same colour, there is nothing to look at, and can be just as ineffective at attracting buyers as a loud orange wall. This is especially true for higher end properties, where aesthetics have a significant impact on a buyer's impression and affinity to a home.
When selling your home, you want your walls to be a beautiful backdrop – a supporting character – that enhances wood floors, windows and architecture. We DO NOT want everything to blend together. The wrong colour can actually hide assets of your home that you should be highlighting, or bring too much attention to your home's less attractive features. Painting is still a labour intensive job, so it's well worth the planning to ensure your paint colour perfect. Obtaining the advice of a professional will give you far better success.
Wall Paint Colour
Once all of your trim and doors have a fresh coat of white or cream paint, you have created the perfect canvas for subdued, elegant colour for your walls. About 20% of the paint deck is soft, toned hues of greens, blues, taupes and greys. These are the modern colours that compliment wood floors or cabinets, and look great against crisp white trim.
Contact us before you pick up that paint brush for an invaluable consultation. Below is a general summary of how we choose colours for a home, but the actual colour that will be right for your space must be determined in person. Computer screens can alter these colours slightly from the actual colour.
1) Paint Colour to Show off Your Wood
For rooms with nice wood floors or cabinets, I always steer people towards grey-ish greens, grey-ish blues or taupey-grey, it all depends on the other elements in the room. Since the undertones of all woods are warm colours like orange or yellow, the best compliments to your wood are cool colours like green and blue.
Avoid yellows, brown, reds and purples because these colours will camouflage and distract from the wood.
Here are some Benjamin Moore greens and blues that do a great job showing off wood features:
---
Here Are Some Examples of How Soft Paint Colour Compliments Wood Floors and Other Neutrals
2) Paint Colour that Works with Beige/Cream Tile or Carpet
Many homes have tile or carpet that's now a bit dated. In most cases, it's not something we want to rip out if its still in good condition. If your flooring is white, taupe, beige, or brown, a taupe-grey neutral wall colour can look great, because it blends with the floor without making it look dirty or old. A neutral wall colour will also flow nicely with other rooms, no matter what colour they are. But again, I wouldn't use these colours throughout your home, unless you have tons of white moulding and trim work to break it up.
In general, avoid peanutty, yellow browns, as this gives a dated look that we want to avoid. Move more towards the taupes and greys to give your home a modern appeal.
Here are some Benjamin Moore neutrals to consider, and see which works best to draw attention away from a dated tile or carpet floor:
---
 Here Are Some Examples of  Greyed Neutrals that will Blend a Beige Floor
Edgecomb Grey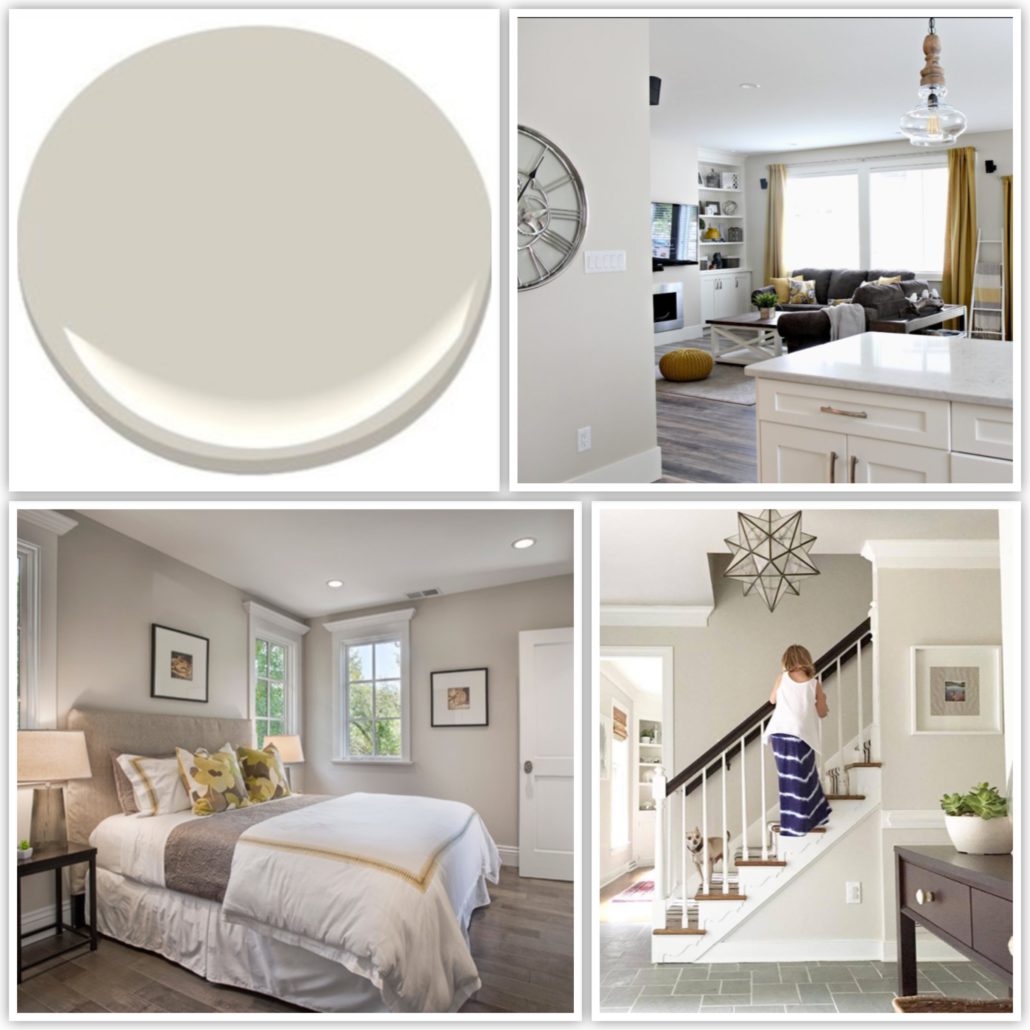 Collingwood
Abalone
3) Don't Forget Some Accent Colours!
Using paint to help create focal points is a great technique for marketing your home and attracting buyers. The modern way to do this is using a darker neutral than your main wall colour, and use it on a wall your eye naturally lands on (Fireplace Wall, Sofa Wall, Bed Wall). This can include Chocolate Brown, Navy, Dark Teal, or Charcoal. This wall will also then be dressed with furniture and art, so that the darker paint colour is just part of this high impact focal wall that will make your listing photos stand out.
In certain homes, architectural elements like cabinets, doors and mantles look fantastic when accented with these dark colours however, it doesn't always work, depending on the light and scale of the space. But the more interest you can create with layers of tones and shades, the better.
---
4) Bright Colours in Small Doses
Use pops of any colour you love in the form of art, pillows, and bed linens to have fun and inject personality. The greatest mistake any home owner can make when staging is to make their home monotone bland and boring. We want to give buyers style and excitement, in a livable, modern way.
---
Get Expert Advice
It is critically important to be strategic when choosing paint colours for selling. It's not about what colour you personally like, or what the colour trend of the year is. You will get the best results when you choose modern, elegant and subtle colour that highlights the best features of your home and/or helps to downplay any negatives.
---
Are you interested in working with us to sell your home for Top Dollar? We are always looking to work with eager, positive-minded clients
Tell us about your home to sell and how you want us to provide an experience that exceeds all of your expectations. If you're looking for real service, we're looking for you.
---
https://thevillageguru.com/wp-content/uploads/2016/12/painted-living-room-home-staging.jpg
3000
4500
Stephanie O'Leary
https://thevillageguru.com/wp-content/uploads/2017/11/VG-Logo-Header-.png
Stephanie O'Leary
2016-11-24 09:55:44
2018-11-16 18:29:44
Choosing The Right Paint Colour For Selling Your Home