Who's Moving to Clarkson?
I do a lot of business in Clarkson Village, especially with young families moving to Mississauga from Toronto looking for more space, but who still need a quick commute to downtown. Toronto buyers are much more accustomed to mixed economic neighbourhoods, where one area will be beautiful custom homes and then just across the street you will find more modest complexes. A lot of suburbanites prefer a more typical suburban neighbourhood, and Clarkson does have a history of being a little rough around the edges, although Park Royal isn't the same neighbourhood it was back in 1991. Clarkson is a very safe area and more and more young families are moving in, but there will always be a mix of housing that you have to be comfortable with.
A Growing Village
Because of all the new young families coming into the area, I have seen a stronger sense of community development. If you grew up in Clarkson, I know you're probably the village's biggest fan. But for new residents, there are so many events to bring the community together. Thanks in large part to the Clarkson Business Improvements Association (BIA), the local scene of shops, restaurants and community events gets better every year. Even Food Network Chef Massimo Capra has opened his new restaurant, Capra's Kitchen, and can be seen working alongside his staff many a day. It is also incredibly close to Port Credit by car or bus, so living in Clarkson gives you all the benefits of two villages.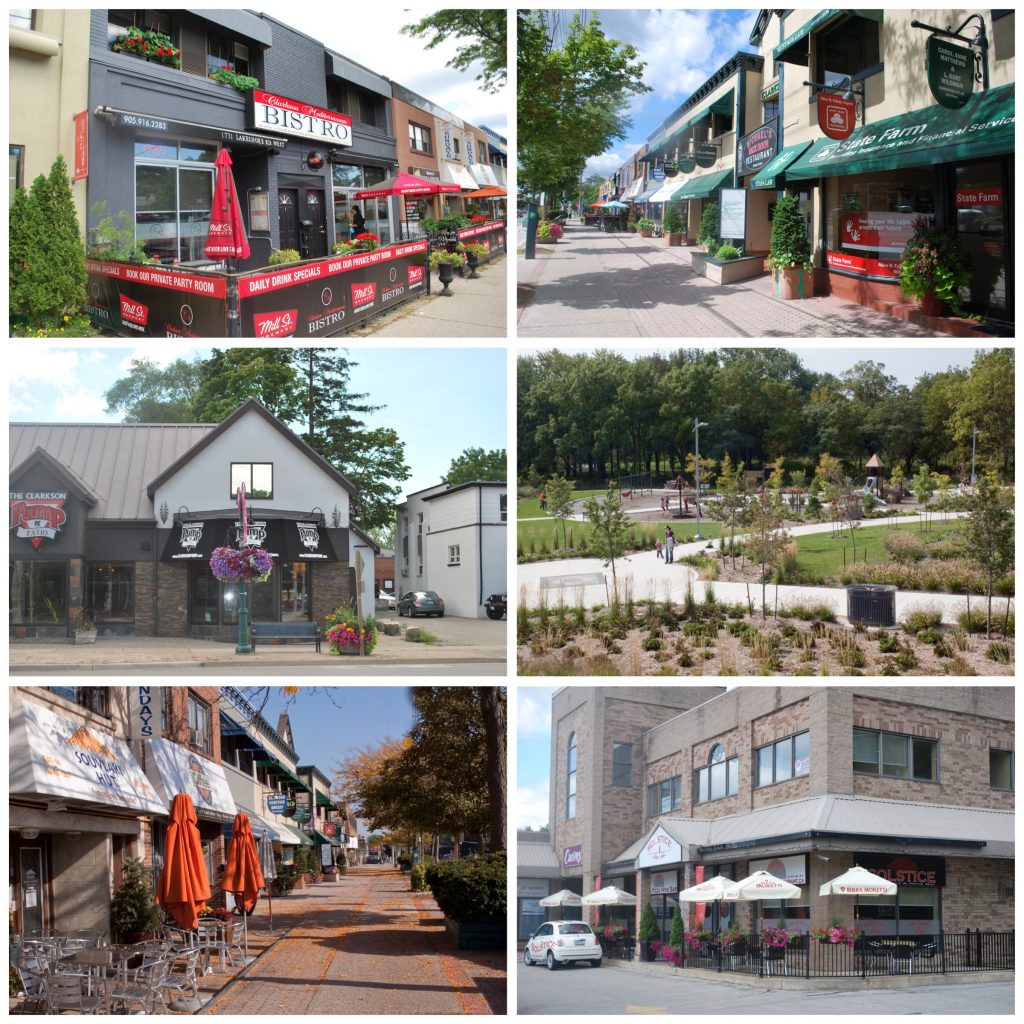 Article continues below
Green Space
Most people have no idea just how much green space and how many wonderful parks Clarkson has. If you're not from Mississauga, you might not know about Rattray Marsh. It is a favourite place for the outdoor enthusiast. It has miles of walking trails (no bikes permitted) and people often go for bird watching, nature photography, hikes along the boardwalks (the forested area is protected and not to be walked in) and a scenic path to the Lake Ontario Waterfront Trail.
The most well known park in Clarkson is Jack Darling Park, which has plenty of wide open space and views of the lake. Many people come in the summer to picnic and spend the day, as there is a small beachfront area, play gym for the kids as well as a splash pad. You can see residents lounging, strolling or playing a game of frisbee and is a great place to unwind and relax.
If you take Southdown Road all the way to the end where it turns into Lakeshore road west you'll find Lakeside Park, which can get busy, but you can also luck out sometimes and get the park practically to yourself. There is a splash pad, lookout, fantastic kids play park, and lots of wide open green space leading you to the lake. It's truly a nice surprise if you've never been. Here is a some more information about Lakeside Park.
Meadow Wood Park / Watersedge Park is a long 11 acre greenspace that also has sanded lookouts to the lake. Meadow Wood Park is also Home to the Bradely Museum off Orr Rd, which you can find out more information about here.
The Lewis Bradley Outdoor Pool is right beside Bradley Park off Orr Rd. It's a great little pool that few people outside of Clarkson even know about. It faces private fenced property and you can look across and sometimes see deer grazing and walking by.
Homes In Clarkson
Let's start with our favourite area of large detached homes nestled on a handful of streets by Rattray Marsh. There's wide lots, tall trees and some very beautiful homes. It feels very much like Lorne Park and the prices are similar.
Most of Clarkson is full of semi-detached back-split homes. A perfect layout for making in-law suites or basement apartments and this is very common. On the south side of lakeshore is the Orr Road area, and on the North side of Lakeshore is the the Playford/Padstow area.
A very large portion of homes in Clarkson are the small detached 1950's to 1970's homes. Modest in size and design, they are good for smaller families and have some charm with the older trees and the variety of home styles on each street. Technically, Clarkson extends east past southdown road to Clarkson road, even though most people count this in with Lorne Park. And you will also find these homes on the west side of Southdown along the streets branching off of Truscott Road.
A new development that has been getting a lot of attention is the Vandyke building called The Craftsman. This has been a long awaited development along Lakeshore road on the east end of the village. The building is already sold out, but watch for some units to list for sale quickly from investors who got in early. The company has also made some great videos about Clarkson which are worth checking out.
Villa La Bella, in the above video, is now the location of Capra's Kitchen
But What About the Schools??
So here is the big question and there's no right or wrong answer. This is a personal decision for you and your family. If your child would go to public school, they would either attend Clarkson High School or Lorne Park Secondary School. The reason why Clarkson east of Southdown Rd gets rolled into Lorne Park is because this area of Clarkson can attend Whiteoaks and Hillcrest elementary schools, and Lorne Park Secondary School, which are all very good. However west of Southdown Road, your children would attend Clarkson Secondary School. It is an average school with average marks, as you can see from the table below, taken from the Fraser Reports. If you personally believe that going to a Top School will affect your child's future prospects, you need to take this into consideration, and should likely focus your search east of Southdown Road. This is a very small area of Clarkson and the prices are higher because of the schools.
If your child is to attend Catholic School, all of Clarkson goes to Iona Secondary Catholic School. As you can see below, Iona has traditionally been a better performing school but has slipped a little bit this past year. It is important to note that these reports can vary quite a bit from year to year, for a multitude of reasons, so I only like to look at 5 year variances. Everyone can have a bad day and a bad test. So even though this past year wasn't the best, the last 3/5 years have been good. Not stellar but good. So if you had concerns, this is where you should contact the board or post on a local Facebook group to search out feedback from actual staff and parents about their thoughts about the school. There's many many good things about a school that will never show up on a Provincial Standardized Test.
Another argument for consideration is that with the rising prices of houses, this will no longer be a middle class neighbourhood. It will never be as elite as Lorne Park, since it has many complexes along Bromsgrove Road that aren't close to gentrifying, but all in all, the calibre of the neighbourhood usually pulls up the calibre of the schools.
A Summary
I have many friends who have lived and still live in Clarkson, and I spent a lot of my youth there. If you talk to anyone who lives in Clarkson, they absolutely love it and wouldn't live anywhere else. The Go Train, the proximity to the lake, the abundance of parks and green space, the unique number of restaurants and shops, all combine to create a pretty ideal lifestyle. If you have Top Schools on the top of your priority list, this might be the only reason why Clarkson might not work for you, but it's all about deciding what your priorities are. And this is a great example of how we work with our clients at The Village Guru; we don't try to push you into ANY neighbourhood, we take the time to get to know you to ensure the village you choose is the right fit for your lifestyle and needs.
https://thevillageguru.com/wp-content/uploads/2017/02/Why-you-should-live-in-Clarkson.png
680
1200
The Village Guru
https://thevillageguru.com/wp-content/uploads/2017/11/VG-Logo-Header-.png
The Village Guru
2017-02-24 13:40:54
2018-11-16 13:52:51
Why You Should Live in Clarkson