When selling your home, deciding which Real Estate Agent to hire can be the most dreaded part of the process. The problem is that everyone sounds the same; they make the same claims, the same promises. They may each have their own bragging point, some secret weapon that ensures they are the best, be it years of experience, a huge database of buyers, territorial fame, having sold the most homes, or have the largest team. They are the same arguments that have been used since the genesis of our industry.
So how does all of this translate into the best sale for you? Or does it even have anything to do with it? I'm going to argue that no, it has nothing to do with a top dollar sale. Technology is moving this world faster and faster, and I find my industry is the last to keep up. In this age of the Internet and technology, a lot of what used to matter is about as relevant as the dinosaurs. If you want to achieve the best possible sales price,  here are the 2 critical skills a realtor must have to make that top dollar sale a reality:
1.  Internet Based Marketing Skills – Creating Maximum Buyer Exposure
Every agent has the potential to be able to do this, it has nothing to do with how many houses they sell or how famous they are. Buyers don't give a crap who the listing agent is. It really means absolutely nothing to them. All buyers care about is hunting the Internet to find a house that A) meets their needs and B) they can fall in love with. Your agent must make sure your home is found by all possible buyers AND that they actually like what they see.
Although I will credit every agent for their potential ability to expose your home properly, very few actually do it. This skill definitely requires a few years of experience for sure, but also the unrelenting commitment to continuous learning. I see many agents of all experience levels having trouble integrating technology and becoming experts in Internet Based Marketing.
To find the most qualified buyers, it takes much more than just listing your home on Realtor.ca. The Village Guru Team uses our proven marketing system that focuses on High-Service Home Staging & Internet Based Marketing that maximizes every opportunity to attract buyers to your home. And as new technology opportunities evolve, we learn them and incorporate the best of it into our systems.
This includes Professional  Hands-On Staging Services, which are not even comparable to the basic consult that is standard across the industry. This ensures that all the buyers who would like the home are not turned off by cluttered rooms, poor layouts or dull decor. They see the home presented at its absolute best.  Read more Here.
This includes Professional Listing Photography that actually shows buyers the size of the rooms, the layout, and how the rooms flow into each other. There should be no questions in the buyer's mind about the home's size or layout. Read more Here. 
This includes Professional Videos (not picture slideshows) that we use to market your home to target buyers on Facebook, Linked in and other identified markets. We take the time to determine what groups of people are most likely to buy your home and we target them aggressively through paid advertisements. Click Here to See a Video Example
This Includes Open Advertising of Your Listing by Hundreds of Companies. I can't tell you how many agents protect their listing and don't allow others to advertise it or share in on data-feed websites. The mere thought of another agent getting a client off your listing instead of themselves is sheer selfish mentality. In the world of advertising, more is more. Don't hide a listing in the hopes of grabbing that 10% of unrepresented buyers, share the listing so that more agents bring more buyers and drive up your sale price.
This includes Professional Open Houses that are safely managed by 2 agents, controlling flow and capturing visitor contact info to maximize every opportunity. What's the point of letting nosy noodles in your home unless they are willing to prove they are legitimate buyers and are willing to be contacted for follow up.
It really is important that the Realtor you choose is an expert in Internet Based Marketing, which includes Home Staging, to ensure you have a great product to market.  Why? Because the Internet is where buyers begin their purchase decision. Lawn signs, word of mouth, "secret" buyer lists, flyers, billboards, and newsletters are all great tools to promote the real estate agent, but are very ineffective at promoting your home. You'll always hear the story of that time someone's sister's co-worker happened across a lawn sign, called the agent and bought the house. It's about as likely as winning a lottery. Here's the real facts you need to focus on.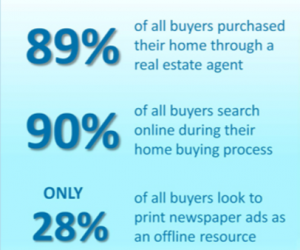 89% of buyers have their own representation, don't be fooled by claims of special buyer databases and that the agent already has a buyer for your home. Focus on the 89% of buyers who have hired an agent to help them find their next home. This same group of people use the Internet. It's the other 10% who look at newspapers and drive around all weekend looking for open houses. This 10% are working on their own trying to save money. They are not the ones who pay top dollar. This is also why I would argue that the last number has dropped far below 28% in the last 5 years, to closer to 10% as well. Be sure to ask extensive questions about Home Staging & Internet Based Marketing because this is what will get THE MOST qualified buyers interested in your home.
2. Client Protector and Negotiation Skills
The integrity and professionalism of the Realtor you hire is critical to your success. Sadly, there's always a large group of agents who, generation after generation, continue to sully the reputation of us all. We are as liked as politicians and used car salesmen. I will agree that finding an agent with integrity is like finding a needle in a haystack, but we are out there. And integrity directly affects how well your agent will negotiate on your behalf and represent your interests. Negotiation and client protection skills can mean the difference of thousands of dollars in your pocket. The best way to find out who will put your interests first, is to do extensive research about the Realtors you are considering. Testimonials, agent websites and blog articles, and community involvement are good indicators of the type of Realtor you are dealing with.
Beware of agents who sell you the idea of "double-ending" a property as a great way to net you more money, by saving on the commissions you pay. In this hot sellers market, there is no benefit for you to have your agent represent both sides of the deal. It most often results in a lower offer price to you, but a higher commission to the agent, even with a commission cut. No one person can represent both sides of a deal with complete impartiality; can a lawyer represent both the plaintiff and defendant? Somebody will lose, and it will likely be you.
I have had several scenarios in the past year of this hot sellers market where buyers have offered GOOD money for homes, but when we refused to do a double-end deal, the owner ended up selling for tens of thousands more in a multiple offer presentation of 3+ buyers. More buyers always brings more money. I could have easily made more money for myself and lost 20-50K for my sellers through double ending. It's the one thing I would like my industry to outright ban, but in the meantime, it's seller beware.
Do your research to ensure you have a real estate agent who is:
Transparent
Honest
Uses Systems and Procedures to Operate their Business
Has Integrity
Can Provide Positive Referrals about their Personal Character
Take a tour around my website to learn about who I am, what I value, the principles of The Village Guru brand, and how my systems produce better results for my clients.
People will tell you a lot of different things about what is important, but put yourself in the shoes of a buyer and think like them. What is important to them? It's whether they can find and fall in love with a home that meets their needs. You need a Realtor who can market aggressively online to find and attract these buyers, and protect your interests from beginning to end. The rest, is just distracting noise that does nothing to help your sale.
---
Sign Up to Join our No-Obligation Home Sellers Program:
---
Check out Our Home Staging & Marketing Strategies Here:
---
Are you interested in working with us to sell your home for Top Dollar? We are always looking to work with eager, positive-minded clients
Tell us about your home to sell and how you want us to provide an experience that exceeds all of your expectations. If you're looking for real service, we're looking for you.
https://thevillageguru.com/wp-content/uploads/2016/11/16123037_233566380428907_6274662205426237440_n.jpg
1080
1080
The Village Guru
https://thevillageguru.com/wp-content/uploads/2017/11/VG-Logo-Header-.png
The Village Guru
2017-03-03 20:23:59
2018-11-16 14:09:13
How to Decide Which Real Estate Agent to Hire