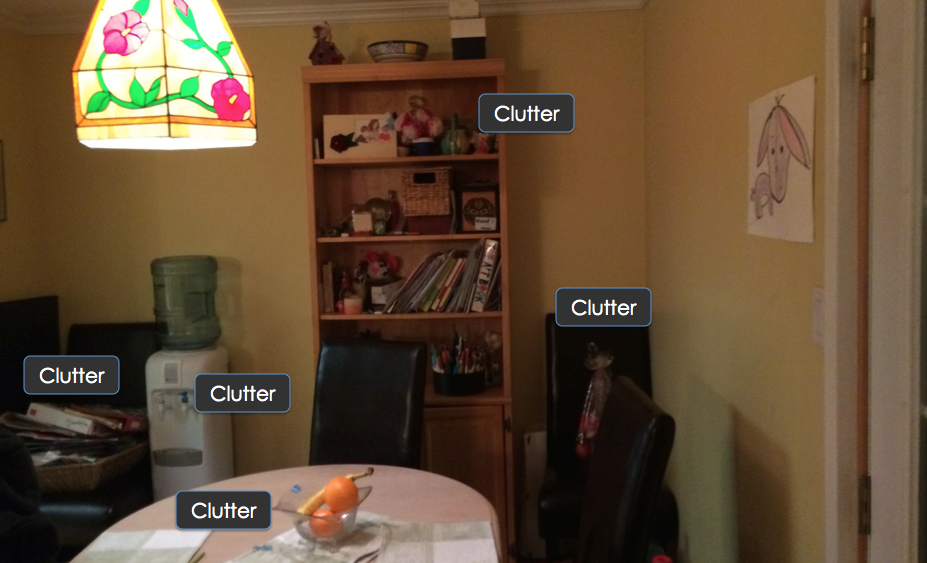 Sell Your Home for Top Dollar – Part 8
Cut Out the Clutter
Have you Heard This one Before? I actually don't think there is anything new or revolutionary I can say about trimming down your possessions. But it is so unbelievably important; it deserves an issue in this series.
The best advice I can give is to start early and move slowly. Clutter collects over time, because often you don't have the time to find a rightful home for it. So to think you can clear out your house in a weekend is not an empowering goal.
Pick one weekend to do something with big design impact (like a kitchen backsplash J) and then the next weekend, pick 1 room or 1 overly stuffed storage area to clear out. It will feel more manageable and you are more likely to complete it and feel satisfied with your progress.
But first things first. If you want to do a job right, you have to have the right tools. Think of de-cluttering as "early packing". There may be some things that you can throw out with all confidence, but you usually keep things because you want it or have some emotional attachment to it.
So you need: Plenty of boxes, Packing Tape, Tape Dispenser, Newsprint or wrapping material, and a sharpie marker. Small boxes are for heavier items like books, and medium boxes are for bulkier and odd shape items like kitchen gadgets and knick knacks.
I highly recommend an online company like uline.ca, as they have moving kits for very reasonable prices. There are many companies that sell supplies so shop around for sales & best prices. Don't use hand me down boxes that are worn out, missing lid flaps or have been written on so much already that you can't clearly label the box with its contents.
Decide on a DRY location to store your boxes (Garage, Basement, Storage Unit) and get ready to start packing! It has a positive psychological effect in mentally moving you out of your home.
The Master of Minimal Living
Organizing has become an industry upon itself, and there are now many online references that you can Google to get step by step instructions on everything you need to do.
Below is a summary of the major steps you should take, and then go online (ex: simplify101.com) for free worksheets, &checklists that will help you get the job completed.
Do the Keep/Sell/Donate/Toss. Don't go too hard on yourself; only get rid of it if it's a quick and clear decision. Now is not the time for added stress.
Try to feel as charitable as possible and donate as many useful items as you can. When you think you are going to sell lots of stuff on Kijiji, it's just a reason for it to sit around your house longer. With one trip to the Good Will, you can be rid of it all immediately.
If you do want to sell things, there are many options, like a street garage sale, Kijiji, or consignment shops for higher quality furniture. This can take on a life of its own in prep time and no-show's, so make sure what you are selling is really worth the effort.
Make sure to follow municipal by-laws for throwing things out. You can't just put anything at the curb except for a few "exemption" weeks. Or take a trip to the local dump to get rid of your stuff faster.
Once you are in the spirit of clearing out, you should use that momentum to get things out of your home as quickly as possible.
For the things you keep, only keep it in the home if it is absolutely essential for daily life in the next several months. Personal Collections, Off Season Clothes, Extra Books and media items should be packed and stored safely.
Stay Ahead of the Game. Now that you are streamlined, the only way to stay that way is to stay organized. Or at least controlled chaos.
Create a Command Centre. This is often best set up in the kitchen or a mudroom, and requires various storage options. Bills, school forms, kids homework, grocery lists, weekly activity schedules. Use hooks for backpacks, a bin for each family member, a calendar, and anything else you need to control the flow of paperwork and "stuff" in and out your house. Search Pinterest for visual Inspiration.
Be Ruthless. 1 In, 1 Out. Never let anything new come in your home without ensuring the old version gets out. Avoid duplication of items or mass collections.
https://thevillageguru.com/wp-content/uploads/2016/03/Decluttering-Tips-For-Selling-Your-Home.png
563
927
The Village Guru
https://thevillageguru.com/wp-content/uploads/2017/11/VG-Logo-Header-.png
The Village Guru
2016-04-07 10:55:14
2018-11-16 19:01:53
Decluttering Tips For Selling Your Home