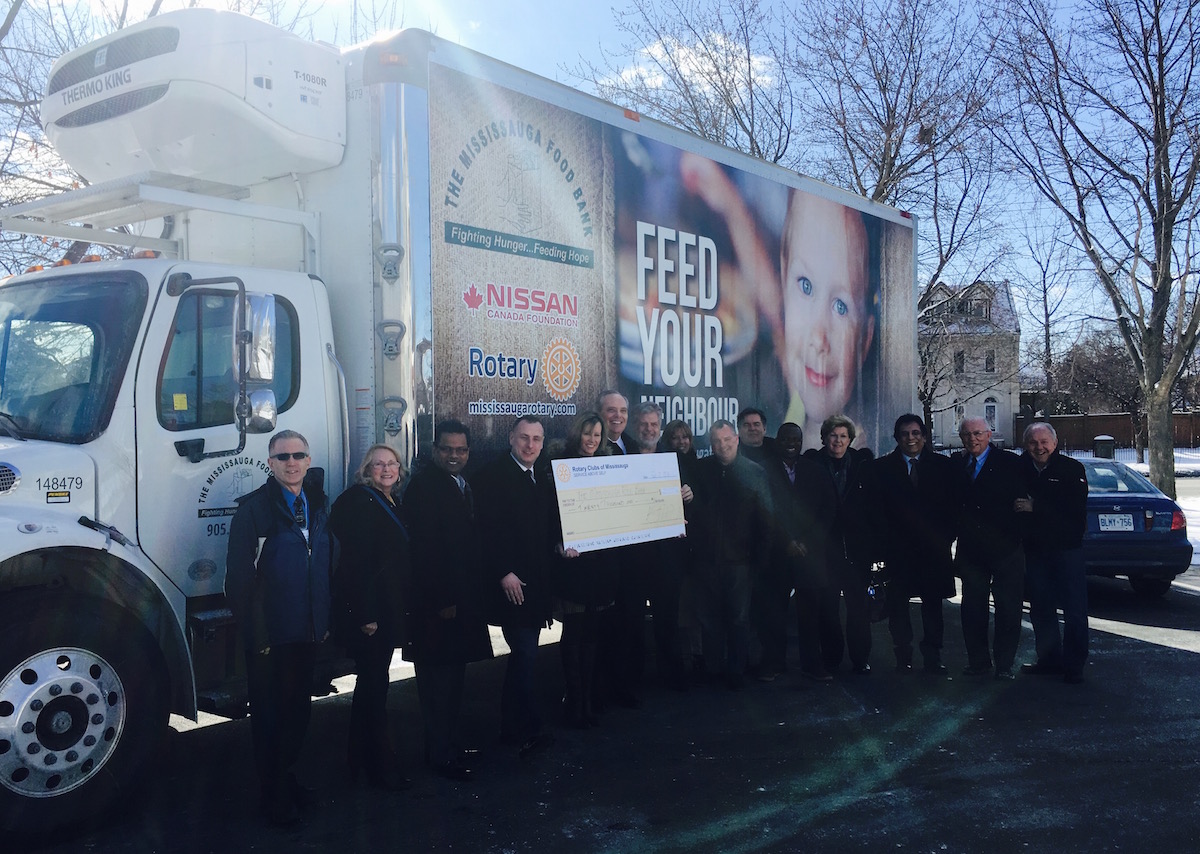 Mississauga Rotary Clubs and the Mississauga Food Bank are joining forces to fight hunger in Mississauga.
On a brisk February day, Mississauga Rotarians pose in front of a Mississauga Food Bank truck to present Executive Director Chris Hatch a cheque for $20,000 to fight hunger in Mississauga.
"It would be impossible to achieve our vision of a Mississauga where no one goes hungry  without partners like the Rotary Clubs of Mississauga,"  says Chris Hatch, executive director of The Mississauga Food Bank. "This partnership enables us to provide wholesome food to hungry families, children and seniors in every corner of  our city."
While individual Rotary Clubs have been involved with the Mississauga Food Bank in the past, this is the first time that all nine Mississauga Clubs have joined forces to contribute as one.
"The Rotary Clubs of Mississauga are untied in our commitment to build a stronger Mississauga where no neighbour goes hungry," said Kathy May, President of the Rotary Club of Mississauga Meadowvale.
The donation will go towards providing fresh vegetables and also the logistics of picking up and delivering food donations to neighbourhood food banks and pantry's in every area of Mississauga.
Find out more information or to volunteer at the Mississauga Food Bank  
About Rotary in Mississauga
There are over three hundred active Rotarians in Mississauga.  Rotarians are business men and women, who are committed to making a difference in their community and abroad. If you are interested in learning more about Rotary and/or becoming involved in local and international projects with emphasis on health, alleviating poverty, education and peace then visit a club nearest you. Find one that is right for you at www.mississaugarotary.org.
About Rotary International
Rotary is 1.2 million neighbours, friends, and community leaders who come together to create positive, lasting change in our communities and around the world. Find out more about Rotary International.
https://thevillageguru.com/wp-content/uploads/2016/02/Mississauga-Rotary-Clubs-Donate-20000-to-the-Mississauga-Food-Bank.jpg
854
1200
The Village Guru
https://thevillageguru.com/wp-content/uploads/2017/11/VG-Logo-Header-.png
The Village Guru
2016-02-23 13:19:46
2018-11-16 15:12:40
Mississauga Rotary Clubs and the Mississauga Food Bank Join Forces to Fight Hunger