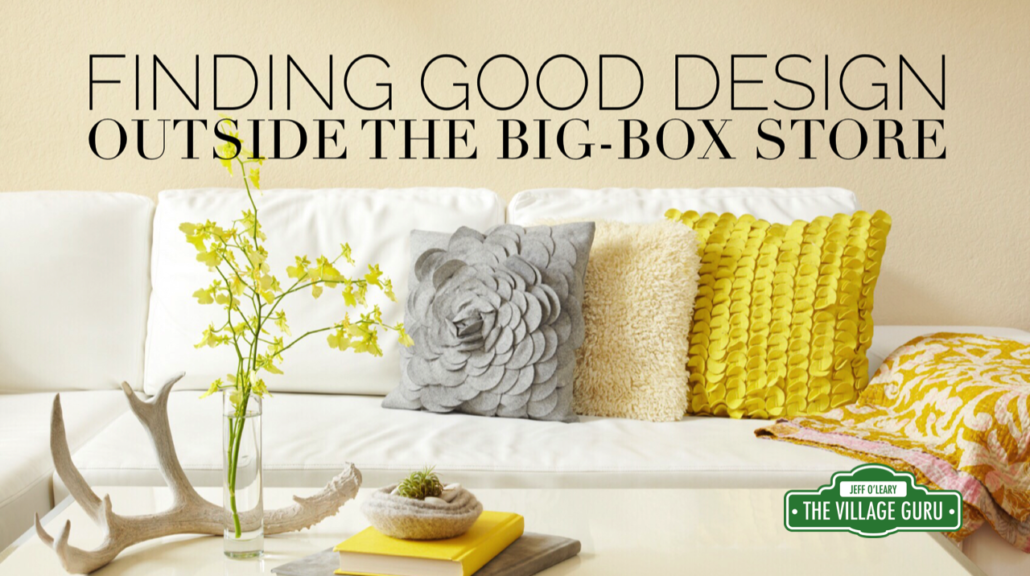 Good Design Isn't Outside of Your Reach
Don't get me wrong, I love IKEA, HomeSense and Bouclair. In my humble home staging beginnings, I could find cheap pops of colour in pillows and drapes that would do the trick when staging a home. Cheap was always important, because you never knows if the family dog will treat your staging pillows as a chew toy, or the kids would use your drapes to play hide and seek. When the decision to decorate needs to be quick, for example when you sell your home, and you don't have a long term commitment to the outcome, pre-fab is a great option and there is some good design out there, more and more each year.
Now let's talk about the act of personal expression in your home through interior decorating. Unlike staging your home to sell, when decorating, you do have a longer term commitment to your home and you want it to look beautiful, to to be an expression of who you are. For this reason, decorating your home is far more rewarding, though slower and more thoughtful. I have said it before, but the best way to create a room that is 100% YOU, is by creating a fabric story you love through pattern and texture. Those rooms you love in the magazines? They all have some degree of customization that was well considered and planned. I'm not saying to ban the big-box store, but try not to rely on these stores for the main fabric decisions in your room.
"But what about cost?" you ask, "Even if I did have the willingness to look through 1000 fabrics, surely custom is outside of my budget!" Fair question. Does custom cost more? Yes, but it doesn't it cost a lot more. You can buy a pillow at HomeSense for $24.99 and you can have a custom pillow made for $30, plus fabric (Starting as low as $7/yard up to the $100's) and get my favourite feather pillow inserts for $7.99 at IKEA. So a cost-conscious custom pillow will average $50-$80. Just 1 or 2 unique and custom pillows, mixed in with simpler pre-fabs can make quite a statement.
Next, let's consider drapes. Pre-fab drapes (and California shutters, but I digress…) give me a slight migraine right behind my eyes. In most homes today, windows are often the best feature of the room yet they get covered up with white plastic or standard issue brown fabric. I think this "safe & practical" decision ties into the above statement "Even if I did have the willingness to look through 1000 fabrics…" For many people, drapes feel like a huge commitment, especially if you get it wrong. Many home owners worry that they'll pick the wrong fabric.
My lesson of the day is that if you love something, you can't get it wrong. Chances are, your furniture pieces are all plain fabrics, so anything from a rich texture to a bolder pattern can work, depending on your personality. People often forget that drapes are usually gathered to the sides, so even a louder print is softened in the folds. Drapes are one of you best chances to tell your design story.
If you have windows, you have a great architectural feature that should be highlighted. Here's some excellent examples of drapes that add to the mood and design of the room.
So how much? An average window will require 6 yards of fabric (windows wider than 5 feet should be doubled up for proper thickness, so that's 12 yards). For the novice custom adventurer, I suggest sticking to a fabric between $8-$15/yard. Online stores are a great source for cheaper fabric – but also add in a $30 dollar fee to pre-order many samples because you can't make a decision without seeing the fabric in person (touch, drape, quality) This price point lowers the fear of commitment, knowing that drapes aren't going to cost $3000/window. Depending on how you want the drapes finished, a seamstress will charge anywhere between $100-$175 per window, on average. So cost-conscious custom drapes start at approximately $260 per window. Versus $90-$120 for Pre-fab. This is why design isn't done in a day. Maybe you can only budget for the 2-3 windows in the main living area, and work slowly on this 1 area (drapes, accents, paint) as your budget allows.
Do I see the value in saving the budget for these custom touches? Absolutely. I've seen time and time again how they turn a drab room into a fab room. Especially when, yes, it does cost more, but not as much more as I think people fear. I strongly believe that any well designed, well executed, unique room includes the services of a seamstress.
Check out my Favourite Sewing Services!
Switch Studio – They offer a variety of services from sewing, to upholstery to decor. You can choose their fabrics or bring your own to their store in Mississauga. Used by many local designers, Switch Studio has an excellent reputation for workmanship.
Tonic Living – An on-line fabric store that also offers sewing services with their fabrics. I have ordered pillows and drapes ad have always been exactly to specification.
Q Design Studio – Another great studio that offers a wide variety of sewing services who pride themselves on perfection.
And of course, if you need help choosing fabric or creating a design plan, It would be my pleasure to help you! Create a Fabric Story here.
https://thevillageguru.com/wp-content/uploads/2014/02/Finding-Good-Design-Outside-the-Big-Box-Store.png
716
1280
Stephanie O'Leary
https://thevillageguru.com/wp-content/uploads/2017/11/VG-Logo-Header-.png
Stephanie O'Leary
2014-02-26 14:33:21
2018-11-16 15:28:00
Good Design is Found Outside-the-Big-Box Store