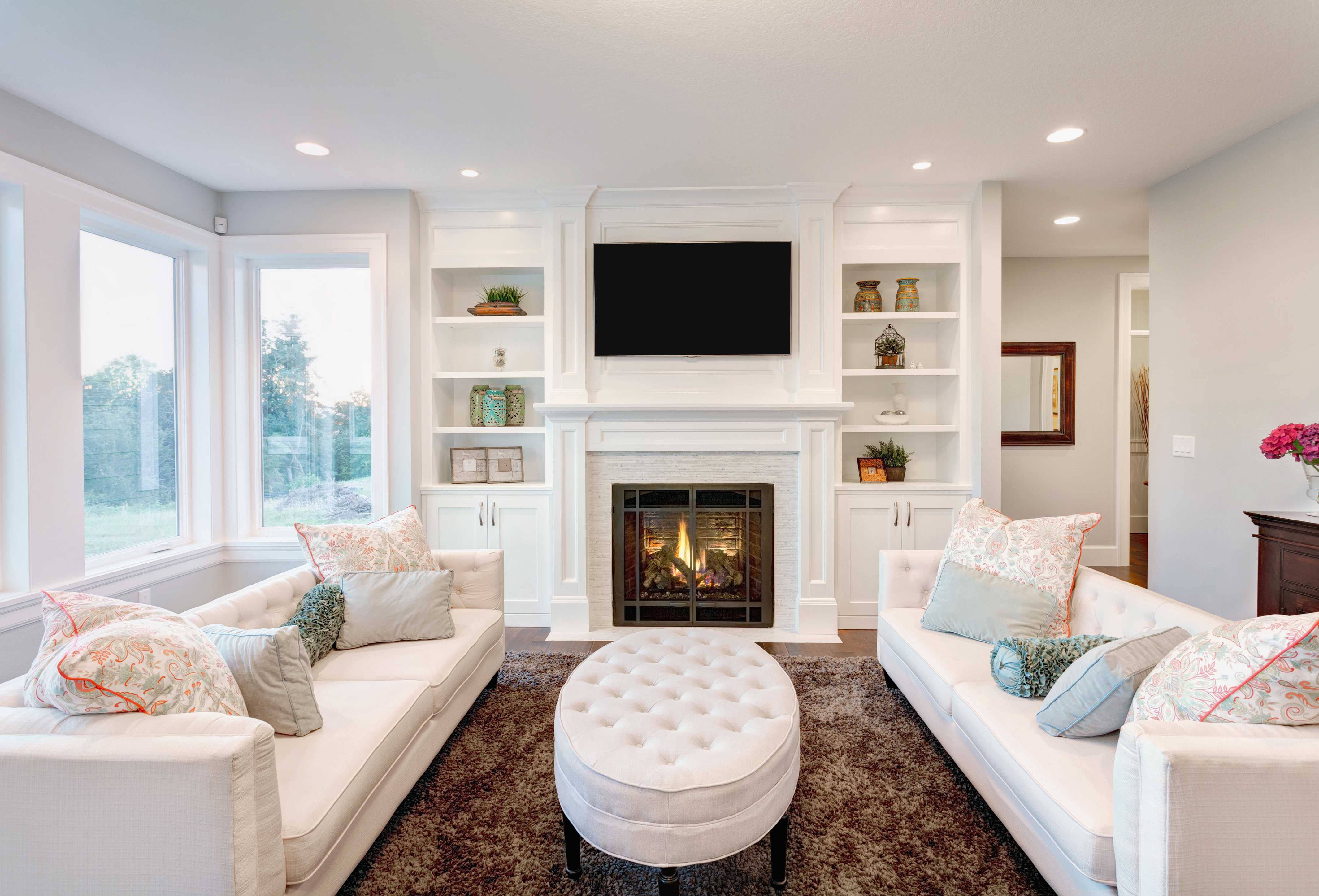 What Is a Focal Point?
Focal points are essential to marketing your home, because they tell the buyer where to look and what to focus on. Used correctly, a buyer will notice the good features of your home, and equally important, they won't notice the less attractive aspects that all homes have.
Contrary to what many people say, buying a home isn't logical or rational, it's an emotional process. When your home is well decorated and has strong focal points, it is that much easier to evoke THE FEELING from buyers that make them want to buy. This is what home staging is about.
Fixed Focal Points
Each room should have only 1 focal point; the one place that immediately and naturally draws the eye. Fixed focal points are things like fireplaces, dramatic light fixtures, built-ins, contrasting kitchen islands, and other architectural details. These are the best focal points because they are also great permanent features of your home.
Artwork as a Focal Point
If the room is lacking architectural detail, a focal point can be created. Artwork hung over a sofa or a bed also creates a focal point and helps build a sense of style as well.
The key to using art as an effective focal point is to make it big!!! You don't need 100 little things, you need 1 really big thing. How big? For traditional spaces, the artwork should be 2/3 the width of whatever it's hanging over. This could be 1 large piece or 2-3 smaller pieces grouped together. However, I find using one nail to hang my focal point much easier than using 3 perfectly level nails. For modern spaces or to inject a more modern feel into the space, the art pieces can be 100% the width. It always adds a bit of tension that creates interest. Never go bigger though, the focal point will feel off balance.
Accessorize, Accessorize
Here's the rub. We've gone and told you to remove all of your possessions to the point that your home feels a little empty, a little bland. What are we going to tell you to do now? Add knick knacks!!!! Sounds crazy, but there's an art to being a stylist. If you look at TV sets, they've all been styled to help strengthen the mood of the show or character. When we are looking at using accessories and art, it is all to strengthen the mood of "Contemporary, Stylish, Elegant Home".
Here is the why and the how accessories work to present your home better than you non- or poorly- staged competition.
1) Bigger is Better. Often people get these large groups of very little things that tend to look quite messy in listing photography. Use accessories to make a strong style statement. Fewer, larger, strategically placed items have the best impact.
2) Think in 2's & 3's. If you see an accessory that comes in 2-3 sizes, grab it. It always looks good. Vases, candlesticks, decorative boxes, etc.
3) Colour Story Counts. If your walls and/or furniture are colourful, stick to white and silver accessories so that they will pop off the walls. If your walls are very light, use accessories to help strengthen your accent colour; apple green, blue or red are great accent colours. Pick one colour and stick with it.
4) Mix Textures. You get interest by mixing something shiny with something rough, ceramic with something organic. Try to mix materials when arranging.
The homes that sell the best are the ones that best meet not only the needs, but the desires and wishes of the target buyer. Decor and styling absolutely tell the buyer that your home will offer that easy, elegant and serene lifestyle that almost every buyer is longing for. When you work with The Village Guru, we give you all the tools and knowledge you need to win at the real estate game.
---
Are you interested in working with us to sell your home for Top Dollar? We are always looking to work with eager, positive-minded clients
Tell us about your home to sell and how you want us to provide an experience that exceeds all of your expectations. If you're looking for real service, we're looking for you.
---
https://thevillageguru.com/wp-content/uploads/2016/04/shutterstock_159028481.jpg
2894
4261
Stephanie O'Leary
https://thevillageguru.com/wp-content/uploads/2017/11/VG-Logo-Header-.png
Stephanie O'Leary
2016-11-23 06:40:21
2018-11-16 18:18:40
Why Focal Points are So Important When Selling Your Home