What's Old is New Again: Mid Century Modern Dining Room
The topic of mid century modern design makes a lot of designers cringe. The popularity of the look was reborn over 10 years ago, as we watched HGTV designers hunt through vintage shops to find that special piece to add a statement to their design. We were inheriting furniture pieces from grandmothers and aunts, and eagerly refinished them to mix in with our current possessions. Many of us were watching the show "Mad Men" and liking the clean, sleek lines of the furniture on set. Like many fresh trends, the mid century modern look was expected to come, be enjoyed…..and then go. But it didn't go. It just kept growing. Retailers started selling new versions of 1950's and 60's classics so you didn't even have to hunt in dusty basements to find your treasure. With one tap on your laptop, that teak credenza would be shipped promptly to your door.
So what is going on? Why is this MID-MOD look still blazing forward?
The beauty of the the mid century mod look is that feels very modern, without feeling cold and hard. Warm woods, textured fabric and interesting lines all work together to create a look that is equally appealing to men and women alike. And that is no easy accomplishment. There is an architectural element to the pieces that make them so interesting to look at, but also have high function for any family – whether you are a collector, or a parent with endless children's "stuff", your home can still look cool. The first time around, these items were extremely expensive, designed and constructed by notable designers such as Eames and Saarinen, and were icons of good taste and stature. Today, there are endless reproductions which make the look accessible to everyone. So if you have been thinking about creating a mid century modern room, but worry you're too late to the party, fear not, this look is proving to be a timeless classic.
Mid Century Modern Dining Room: Inspiration Photo
Let's Take a Look at Each Piece that is Essential To Creating This Look
1) The Eiffel Chair
This is the iconic dining chair for a mid century modern dining room. Available at all price points, colours and bases, there is great variety to choose from. Comfortable and sturdy, it especially serves families with kids very well, because the seats are easy to wipe (no stains) and the the legs are nice and wide.
Although you can get any rainbow of colours, you are safest to stick to a white or black seat with birch or walnut legs. You can buy the chairs in singles, pairs, sets of 4 or even 6. However many you need, keep them all consistent for the best look.

When you click the article links that refer you to Amazon, the prices are the same as normal. If you purchase one of our recommended items, we just get a small commission which we dedicate to writing more valuable content for the website. 
2) The Dining Table
Teak is the classic material of choice, however this can push your budget up fast, especially with solid wood pieces. Feel free to branch into walnut wood, or even glass with an architectural wood base. Finally, although it doesn't get the look in the above inspirational picture, we would be amiss not to mention the classic Saarinen table, that often is paired with matching chairs but can be far more interesting with contrasting chairs in black or grey.
3) The Statement Light Fixture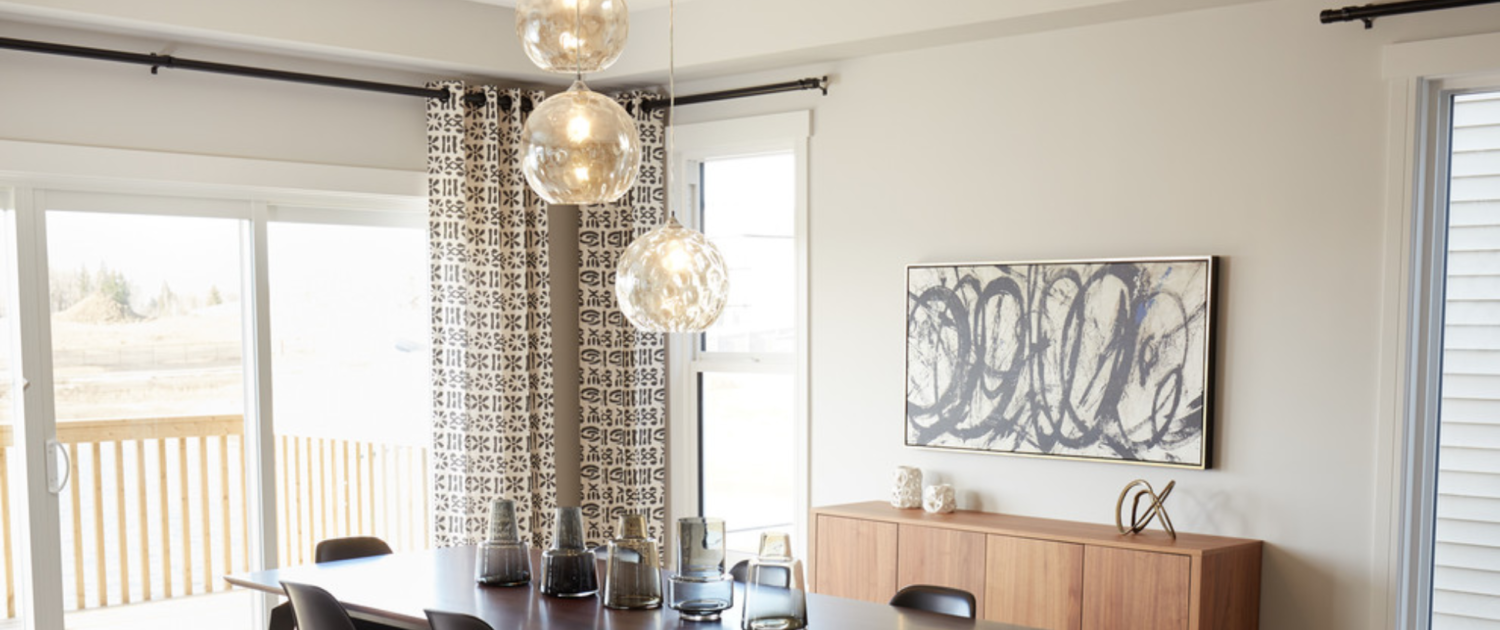 With this look, it is important to have a light fixture that doesn't fade into the background. Its an opportunity to add new materials, contrast and architectural interest. However, you will find that the vast majority of lights that fit this description are usually well into the $1000's of dollars. Here is a round up of statement mid century modern lights that won't break the bank.
The modern interpretation of a mid century dining room is usually monochromatic: the rusty oranges, olive green and acid yellow have for the most part fallen to the wayside. So when building this room with whites, creams, tans, browns, and greys, texture becomes absolutely critical. It is essential that your light fixture feels like a piece of art and makes people stop and go "wow!"
When you click the article links that refer you to Amazon, the prices are the same as normal. If you purchase one of our recommended items, we just get a small commission which we dedicate to writing more valuable content for the website.
4) The Statement Art Piece
Speaking of art, this is another area where you need to put all other opinions aside, and choose something bold that speaks to you. You have to love your art. The mid century modern dining room is about artistic expressions of form, line, composition and balance. Art is a critical element. And when in doubt, choose fewer large pieces over more, smaller pieces.
5) Window Treatments
How to cover your windows is more open to interpretation and what your light and privacy needs are. But I'll say right now, there are no California Shutters in mid century modern design. And nothing plastic. Again, the goal is to showcase beautiful materials, simply made, with the highest possible quality. In a perfect world, this would be fully lined custom linen drapery. But, for those of you who don't want to spend more on your drapes than the rest of the entire room, we can expand options to find some pretty decent pre-fabs.
Option A) If you have found some stop-you-in-your-tracks, AH-mazing lights and art, then you can go more subtle with your drapery. The colour can be similar to your wall colour, to act more as texture in the room.
Option B) If you are still on the hunt for gorgeous artistic pieces, you can have a little more fun with your drapes and bring in some character this way. Of course, you can use more pattern in either scenario, but for a plain room, pattern on the drapes will be more critical.
Summary about Mid Century Modern Dining Rooms
In this article, we have focused on the most key elements for building a mid century modern dining room. You can then layer in other items of interest, such as sideboards, rugs, and accessories. But if you start with these pieces first, you will be well on your way to a dream look. Below are just a few more photos of mid century modern dining rooms to inspire you.
https://thevillageguru.com/wp-content/uploads/2017/11/Get-the-look-mid-century-modern-cover.png
685
1200
Stephanie O'Leary
https://thevillageguru.com/wp-content/uploads/2017/11/VG-Logo-Header-.png
Stephanie O'Leary
2017-11-29 18:53:27
2018-11-16 15:29:30
Get the Look: Mid Century Modern Dining Room