Jamie Sarner is a Toronto Real Estate agent who runs a solid business and has a top notch website himself. He's proven himself to be knowledgable, skilled and is definitely a Toronto expert. It may sound odd that a real estate agent would take the time to rank other real estate agent's websites, but he knows this does nothing but boost his credibility, and showcase his ability to research. He has many guides and ranking on his site, and I think it's a very useful tool for the public to help filter immense amounts of information.
I had made it into the top 50 a couple of times in past years, but since he shortlisted to 20 in recent years, (it is a lot of work, I don't blame him) I had to step up my game to get back into the mix. He states that I'm a novice to his list; perhaps because I fell of it for a year, they forgot about me. Challenge accepted. Last year I did refocus my efforts on content, I wanted to get more personal in my blog, to step away from market updates and general info you can find anywhere. Its just me, my experiences and opinions. So hitting #16 was a good indication that I'm on track.
He noted one thing that is very true, my website is looking a little wrinkled around the edges, as it's several years old now. Ever since Apple came out with a new website format that completely changed the look and feel of websites everywhere, and which thousands proceeded to copy, my design was needing some love. I've been working for FIVE months redesigning my website in the background until it is ready to launch, which I am planning for early February. It's an absolutely massive undertaking, as anyone who's redesigned their website will tell you. So good observation Jamie, and Im working on it! I'm aiming for Top 10 for 2017.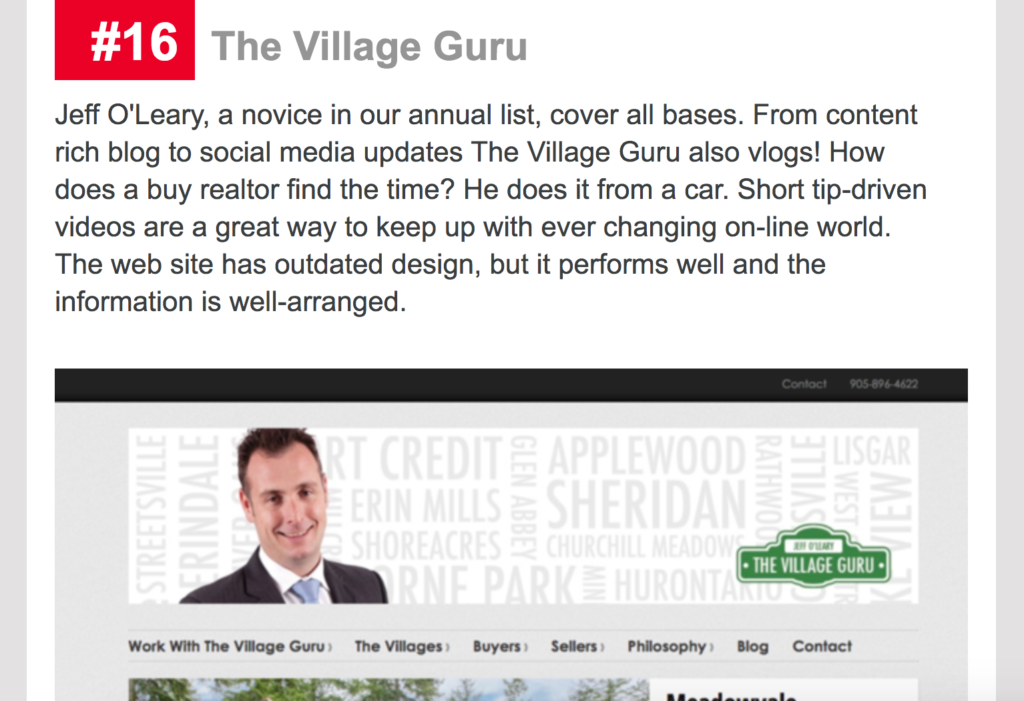 https://thevillageguru.com/wp-content/uploads/2017/01/Screen-Shot-2017-01-18-at-11.11.33-AM.png
740
620
The Village Guru
https://thevillageguru.com/wp-content/uploads/2017/11/VG-Logo-Header-.png
The Village Guru
2017-01-18 11:44:20
2018-11-16 15:18:49
Another Nod to The Village Guru for Top Canadian Real Estate Blog