As a real estate agent, it is my job to sell homes and a critical aspect of marketing is pointing out all of the home features. However unlike a home builder, I don't have the luxury of selling home features I think are best, I have to sell what is already there and I'm happy to say that I'm darn good at it! But selling a home and buying a home are two different things. From all of my experience, I am going to give you a list of the top 7 home features I believe are oversold and don't make financial sense in today's real estate market. Now I am not saying there is anything wrong with these features and amenities, what I am saying is that from my experience they are never used as much as a buyer imagines them when they buy; so if you are going to pay more for a home because of these features, I would think twice and invest my money elsewhere.
Pools in condos
I think  pools in a condos are the most oversold, underutilized amenities of a condo. Pools look great, and when a potential home buyer first sees a nice pool they almost always start imagining themselves taking that morning swim before work and having friends over to relax by the pool. But the reality is that pools in condos are not used as much as people think. A few months ago I was showing a condo in Mississauga to one of my buyer clients and we went to look at the pool. The pool was a beautiful indoor pool with lounge chairs and palm trees, it looked like something out of a resort. As we were looking at it my client turned to me and said, "What's wrong with it?" A little surprised, I answered, "What do you mean, there is nothing wrong with the pool, in fact it is one of the best pools I've seen in a condo lately". Then her reply, "It is completely empty and no one is using it". She was right, you could tell by the fact that the deck area was dry that no one had used it all day. It was at that point I put her fears at ease, because the vast majority of people hardly ever use the pool. Don't believe me, ask anyone you know who lives in a condo with a pool. One of the other reasons I added pool condo to the list is that a pool takes up a huge portion of the maintenance budget. As the building gets older, that pool will have to be repaired and that costs money, especially if you don't use it regularly.
Jacuzzi Tubs
Nothing brings feelings of rest and relaxation better then seeing a beautifully decorated bathroom with a large soaker jacuzzi tub where you can relax. It even looks better when it's staged with candles and white fluffy towels! Now realistically speaking, we all lead busy lives and when do most people have the time to fill the tub, never mind cleaning the thing once you are done? A funny story, I had a listing that I sold earlier this spring and the master bathroom had a large jacuzzi tub. My client said that was one of the reasons she bought the home five years earlier but guess what? She said that she had only used the tub two times in five years! She definitely bought a dream with that one.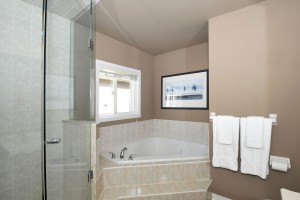 Upper Floor Walkouts in Houses
I'm sure you've seen them, the little walkout balconies on the second floor of a home? They are sometimes located over the garage or over a door way. They look great and like the other home features in this list, you can imagine yourself relaxing in the morning with a cup of coffee and a good book, birds chirping, not having a care in the world. Reality: The weather in Mississauga or anywhere else in the GTA can be a little harsh. Snow and heavy rain are not friendly to flat roofs. Over time flat roofs need to be repaired and they are MUCH more costly to be repaired then traditional sloped roofs. The risk of water penetration into the house is much higher and all around flat roofs can be a big pain in the butt! Plus most of the time these balconies don't even have good views. Unless you have a private lot, chances are other people will see you on your roof so you can't relax out there in your robe. My advice is that if you don't live in California, or you don't have a spectacular view, think twice about the flat roofs.
Second Floor Laundry Refit
Second floor laundry is a blessing. It saves so much time walking up and down stairs. Just make sure there is enough space for you to do the laundry or else you will have clothes all over over the place and this will be one of those home features that will cause more stress then it is worth.
Marble
Marble is beautiful, but be warned- It stains very easily!! If you have kids I would think twice about it. If you are looking to renovate try another material such as quartz. You will get the look you are after and it is much more durable.
Bar Height Kitchen Counter
Open concept is all the rage now, I love it with kids because you can be in the kitchen and keep an eye on the kids or entertain guests while you cook. My only issue is with how counters are deigned. Counter height islands or bars are great, but bar height kitchen counters aren't that practice  You'll find that kids can't use them and adults even find them uncomfortable over extended periods of time.
Wood Burning Fireplace
Out of all the people I know with wood burning fireplaces, I believe only one person uses it on a regular basis. Wood fireplaces are just not the rage they were years ago. They take a lot of effort to maintain and can be a fire hazard if you don't. I would consider the cost of converting it to natural gas or electric for care free use.
There you have it, 7 home features that rarely make financial sense in real estate. It's not that they aren't nice, I'm just pointing out that for their cost, they are rarely used enough.
https://thevillageguru.com/wp-content/uploads/2017/11/VG-Logo-Header-.png
0
0
The Village Guru
https://thevillageguru.com/wp-content/uploads/2017/11/VG-Logo-Header-.png
The Village Guru
2012-08-23 12:48:56
2018-11-16 15:45:16
7 Home Features That Rarely Make Financial Sense in Real Estate