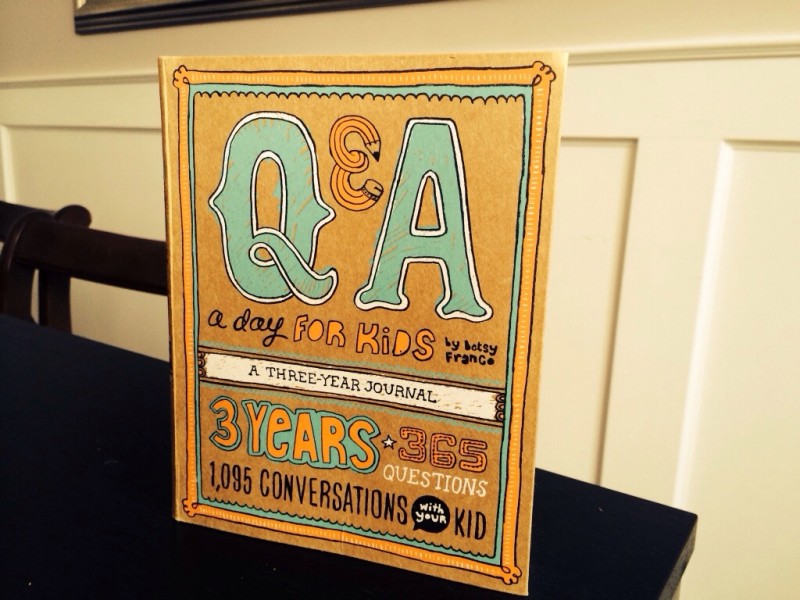 If you want to do something fun with your kids that will make you laugh, and create memories for life then you have to get yourself the book, Q&A a Day For Kids by Betsy Franco.
The book works like a diary and every day you ask your child the question of that day. We've been doing this with our two oldest boys for a month now and I'll honestly say that the book is filled with some very interesting questions that will get your children thinking and I guarantee you'll be surprised at the answers you receive. Once they answer the question, record it in the journal entry for that day- pretty simple. There are 3 spots per day so the book is good for 3 years and what I like best about this journal is that you get to see how your child's perspective and answers change as they get older.
To give you an idea of the questions, here are a few examples that had me cracking up:
January 16. Q: I feel awful when ___________.
Answer Matthew: When Ryan beats me up.
Answer Ryan: When I beat Matthew up too.
January 21. Q: Do you believe in aliens? Explain.
Answer Matthew: Yes because I watch alien movies.
Answer Ryan: No. Aliens are in space and I don't believe in space!
What I love most about the whole experience is how your child will answer with a strait face. They seriously contemplate their answers, and that's what makes it so much fun. The closest thing I can describe to this book is Bill Cosby's show from the 1980's, 'Kids Say the Darndest Things'.
If you have kids ages 3-10 I highly recommend you getting Q&A a Day For Kids, It'll make you laugh out loud, guaranteed!
https://thevillageguru.com/wp-content/uploads/2014/01/20140126-135559-e1390763243434.jpg
600
800
The Village Guru
https://thevillageguru.com/wp-content/uploads/2017/11/VG-Logo-Header-.png
The Village Guru
2014-01-26 13:45:36
2018-11-16 14:56:36
Book Review: Q&A A Day for Kids