Where is Pheasant Run?
Today I want to focus on Pheasant Run, a very charming pocket of old Erin Mills. It's located just south of the 403 between Winston Churchill and Glen Erin Drive, north of the Collegeway. It's a small area that has no formal designation aside from a developer sign at Winston Churchill and Unity Gate, but the homes in this area share the same characteristics and amenities.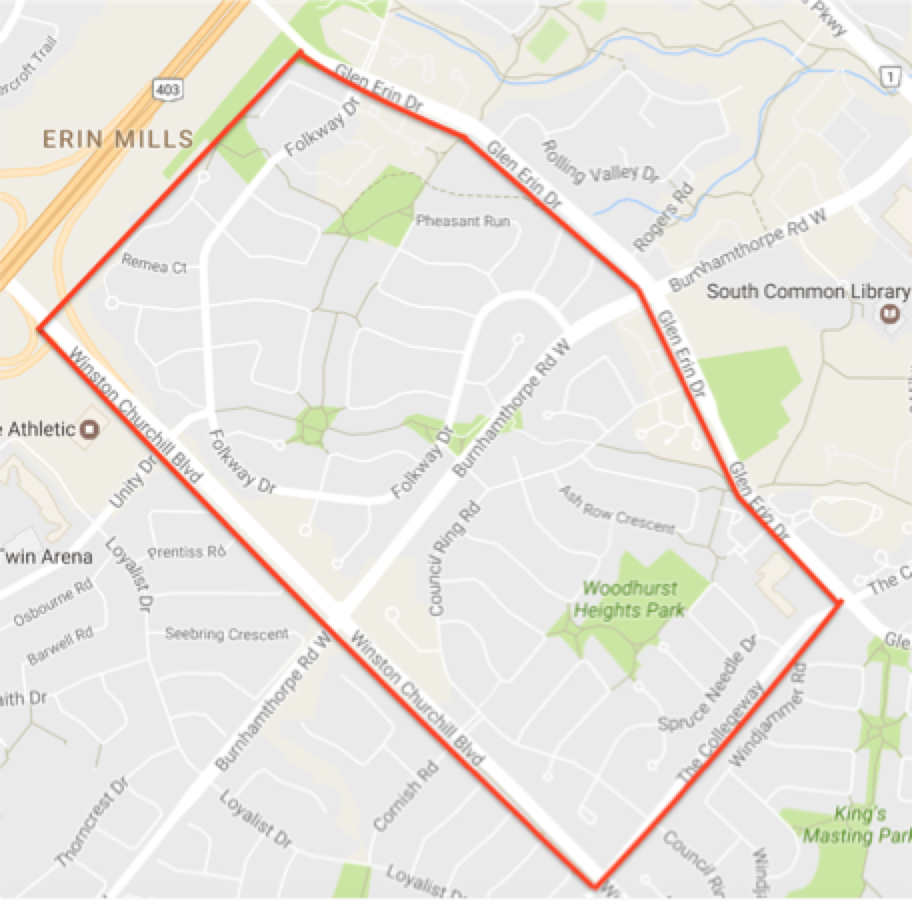 Commuting to Work
Erin Mills has always been in such high demand because commuting is very convenient. With access to the 403 at Winston Churchill, travelling across town or up to the 410 or 401 is relatively easy, albeit still slow at rush hour. There is also immediate access to the 407 northbound to the 410 & 401 Toronto, and westbound towards the QEW or 403 Hamilton. Especially for families who have partners driving in different directions for work, Pheasant Run is a good middle ground for everyone.
Amenities
Pheasant Run also has excellent access to all the amenities of Mississauga. Downtown is just 10 minutes east on the 403. Port Credit and the lakeshore with the many parks, shops, and restaurants is just a 15-minute drive. But even closer is all of the shopping within a 5 minutes drive: Erin Mills Town Centre Complex, South Common Mall and all of the shopping complexes along Dundas from 9th line to Erin Mills Parkway.

Recreation & Green Space
On the west side of Winston Churchill is the Lifetime Fitness Complex, which is a high-end membership gym offering fitness and other services. It has an indoor and outdoor pool, swimming lessons, rock climbing wall, kids club, social nights and a spa. Lifetime Fitness is definitely a lifestyle experience.
There is also the Erin Mills Twin Arenas, and South Common Park, with lighted competitive baseball and soccer fields.

The South Common recreation centre and library is within walking distance via the Glen Erin/5th line walking trails. Here is a topical view of the area and you can see all the trees, parks, and paths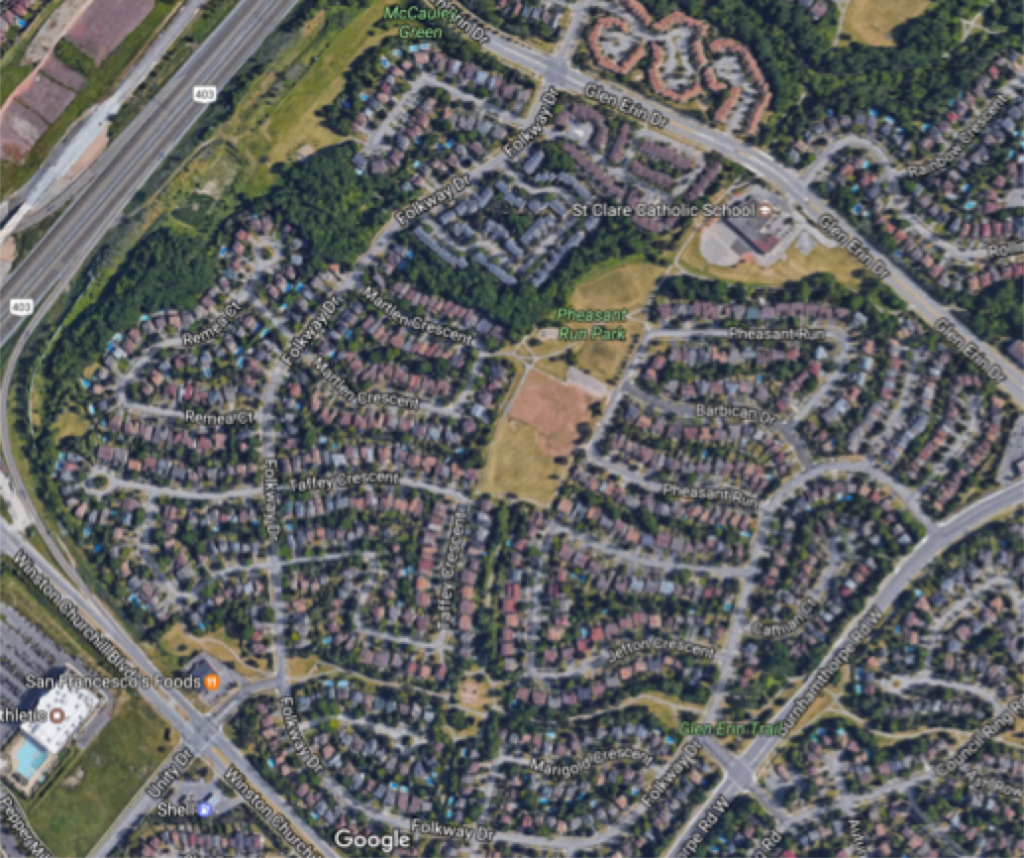 Homes In Pheasant Run
I can't deny that I'm a huge fan of homes built in the 1970's and 1980's. The lot sizes are relatively larger than what you get today, and you get added privacy with large, mature trees. Often the layout of the homes offer a better flow, with nice square rooms and smaller hallways. The downsides are 8 foot ceilings with the exception of the occasional vaulted family room. But in general, you'll be seeing popcorn ceilings, miniscule trimwork and a few varieties of vinyl flooring. For the smart owners who have updated their homes, they have the ideal mix of hard to find lot sizes with all the modern features inside.

What about Schools?
Despite its location and green space and amenities, this area doesn't draw the demand like other neighbourhoods because a) anyone who likes a new home doesn't like this area and b) the schools are not top notch. That's not to say they are bad by any means, but large groups of people want their kids in the top schools, no compromises. For Public School, students attend Erinadale Secondary School. An exception to this Is if students are in French Immersion, the would attend Clarkson Secondary, and if they are in Enriched Program, they would attend Lorne Park. There are also many the specialized programs that would allow them to attend other high schools such as Cawthra Park, so if you have set plans and goals for your child, the sky is the limit. You would be responsible for transporting your child out of area to these specialty schools. For Catholic School, students attend Loyola for regular track and Early Immersion. For extended French, they would attend St. Aloyisus Gonzaga, and similar to the Public Board, specialty programs exist to help your child get the most rewarding education possible. If you need more detailed information about school and programs, check out the board websites, as these program locations and boundaries do change some years.
Summary
Pheasant Run is a small area of South Erin Mills that is easy to miss but deserves your full attention. Unless you must have a new home, this area offers everything you could want for a quiet family neighbourhood, with access to all the big city amenities.
---
Are you looking to work with a buyer agent who will provide you sound advice and a systemized approach to buying your next home? 
Tell us about your home buying goals how you want us to provide an experience that exceeds all of your expectations. If you're looking for real service, we're looking for you.
https://thevillageguru.com/wp-content/uploads/2017/04/Entrance-to-Pheasant-Run-Park.jpg
427
640
The Village Guru
https://thevillageguru.com/wp-content/uploads/2017/11/VG-Logo-Header-.png
The Village Guru
2017-04-27 10:56:09
2017-11-10 20:22:32
Why Live in Pheasant Run