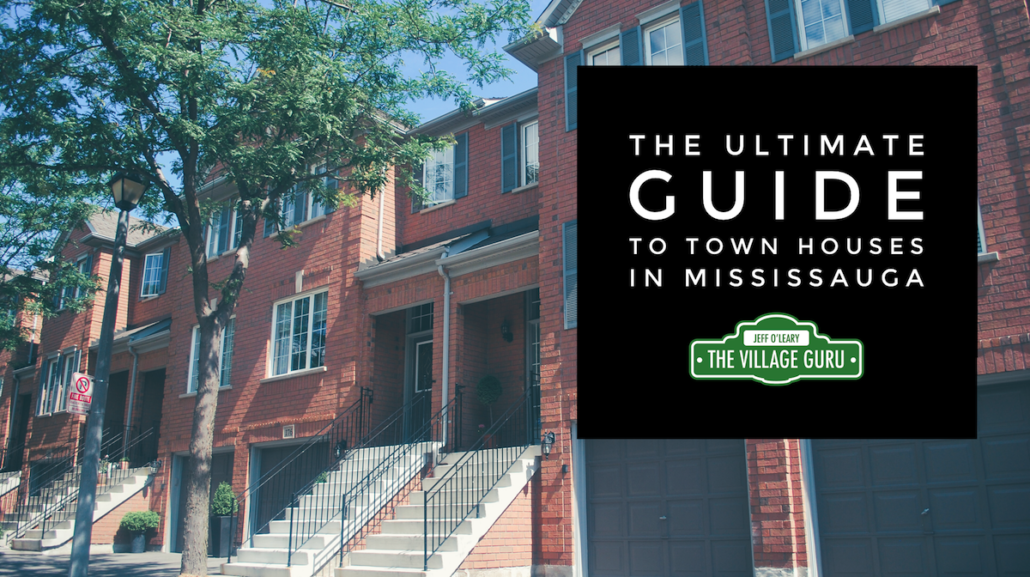 Since the 1970's, the town house has been a very popular style of home in Mississauga and you can find them in nearly every neighbourhood in the city. Appealing to everyone from entry level home buyers to luxury seeking village buyers, the design of town houses in Mississauga has evolved over the years to reflect the style trends and market demand of the time they were built.
In this guide we will cover the most popular types of town houses in Mississauga, including the Family Style Town House, the Stacked Town House, Luxury Town Homes, Adult Lifestyle Town Houses and Free Hold Town Homes.
History of Town Houses in Mississauga
Having been a popular choice of housing for centuries in large urban centres, town houses didn't start to appear in Mississauga until the late 1960's, and it wasn't until the 1970's that the 'town home' as we know it was developed on a large scale.
The Suburban Boom (1970's to early 1980's)
The 1970's was the great suburban boom for Mississauga, land was cheap and the subdivision was the way of the future. Large communities such as Erin Mills, Meadowvale and Rathwood were all built during this time period and these were the areas with the largest concentration of town houses.
Originally, town houses were built as a more affordable version of the semi-detached or detached house. Most of the town homes from the 1970's are larger then what is being built today, came with basements, 3 or 4 bedrooms and had good sized backyards. Many of the complexes were large, and had amenities such as outdoor pools and playgrounds, and many were integrated with the surrounding communities via parks and path systems.
Over the years, town houses in Mississauga have become more sophisticated, with various styles and options available for all ranges of home buyers. Below is the Ultimate Guide to Town Houses in Mississauga, broken down by lifestyle.
The Family Style Town House
The original and most common style of town house in Mississauga is the traditional Family Town House, a more affordable option compared to a detached or semi-detached house. Over the past 40 years, town homes have become more sophisticated and luxurious as home prices have risen but the purpose of the family town house remains the same, to provide a less expensive option for families to own a home. Below are the 3 main categories of family town houses by decade.
1970's & 80's Town Homes
Town houses that were built in the 1970's offered more affordable options to buy a family home. Most town houses from this era have the same features of houses including basements and backyards. Older town homes and are a good option for price conscious buyers looking for the most size for the money. Due to their age, older family town homes also provide an opportunity for renovators and younger buyers who want to renovate add their own sweat equity.
1990's Family Town Homes
The 1990's represented the second suburban 'boom' for Mississauga. Large communities such as Central Erin Mills and Hurontario were developed at this time and there's a noticeable difference in the style and design of homes from this period. Town homes in this era were built with more amenities such as ensuite bathrooms, and entrances from the garage. Architecturally, builders used more brick and roofs became more streamlined.
2000- Present Town Homes
Brick and stone details, casement windows and energy efficient construction make today's town house vastly superior to homes of the past. Newer homes have open concept floor plans and high end finished such as pot lights, stone counters and upgraded cabinets. These town homes are turn key and move in ready. Small upgrades such as painting, upgrading the builder light fixtures, adding a dining room chandelier and stylish kitchen back splash will go a long way to personalizing the space to suit the most sophisticated buyer. Click here to see all of the new town houses for sale in Mississauga.
Article continued below
---
Stacked Town Homes
Due to skyrocketing price of real estate and land in the GTA, stacked town homes have become wildly popular with home builders and buyers over the past decade. Unlike the traditional family town house, stacked town homes in Mississauga feel like a mix between a house and a condo, but without the high condos fees making them a good option for first time home buyers and singles.
Most designs have units stacked 2 high so chances are you'll have neighbours above or below you. Below are examples of stacked town house complexes in Churchill Meadows, Central Erin Mills and Cooksville.
---
Luxury Town Houses in Mississauga
High end finishes, superior floor plans, striking architectural features and the best locations are just some of the features that a discriminating owner expects from a Luxury Town Home in Mississauga. It's not just the home, it's a lifestyle choice. See all the Luxury Town Houses For Sale in Mississauga here.
---
Adult Lifestyle Town Homes
Located in a handful of boutique lifestyle communities spread throughout the city, these homes are designed to appeal to active buyers who would rather be golfing than mowing the lawn, or in Florida instead of shovelling snow. Top notch landscaping, snow removal and exterior maintenance give these communities an exclusive feel, and owners are willing to pay for it.
Many newer adult lifestyle town houses are being designed in bungalow, bungaloft, and split level styles, with the intent of minimizing stairs making them very desirable with baby boomers and down sizers.
---
Freehold Town Homes
Relatively new on the scene, freehold town houses have become very popular as builders try to balance consumers desire to keep maintenance fees low, with government development policies and the fact that land is much more expensive. Unlike the traditional condo town house, Freehold means that owners are responsible for all maintenance to their property- just like a regular house.
Where they differ from 'row style housing' is that they are located in a complex, on private roads so there is still a condo corporation in place to handle basic services such as snow clearing, road maintenance and landscaping. The biggest advantage is that condo fees should remain relatively low. If you're wondering if condo maintenance fees are worth it, check out our review of Freehold Town Houses versus Condo Town Homes.
---
Conclusion
Whether you're interested in an affordable townhouse to get on the property ladder, or in finding the perfect home to fit your lifestyle, there are plenty of options to choose from when looking at townhouses in Mississauga. I hope you enjoyed this guide, and if you'd like to discuss how we can work together, be sure to contact us. or fill out he form below!
https://thevillageguru.com/wp-content/uploads/2017/11/The-ultimate-guide-to-toen-houses-in-mississauga-cover.png
672
1200
The Village Guru
https://thevillageguru.com/wp-content/uploads/2017/11/VG-Logo-Header-.png
The Village Guru
2017-11-23 13:11:08
2020-03-17 07:10:58
The Ultimate Guide to Town Houses in Mississauga