A Tale of Two Real Estate Markets in Mississauga
Corona Virus Real Estate Market Update May 20 – 26, 2020
Below is your real estate update for Mississauga for the week of May 20-26, 2020. The data has been based on MLS sales over the past week.
Mississauga Real Estate Market Update
Continuing the trend for last week, sales and new listings in Mississauga continue to remain lower than seasonal average however the upward trend continued last week. Less homes for sale in Mississauga and less buyers, but the situation is holding steady and slightly improving.
Below are the number for ALL properties in the city of Mississauga, comparing the week of May 20 – 26, 2020 versus the same time period in 2019.
Listings were down 35% Year over year
Sales were down 65% Year over year
Home Prices
This is where things get a little more tricky and it's not simply comparing average selling prices year over year. To get a better idea of what's going on, you need to compare what has changed over the past month in real estate. All figures below are based on the sale of semi detached homes in Mississauga, from 600k to 900k. The numbers compare May 20 – May 26 2020, to the first week of March 2020.
Prices are down approximately 5%
This is still an improvement from the start of lockdown when prices were down in the 8-9% range
Average days on market for homes that sold was 18 days
Average sold to ask ratio was 101%
Normally in a market downturn where prices drop, you see the absorption rate increase, meaning there are way more homes on the market and the time it takes to sell goes way up. However we are still seeing very low levels of homes for sale in the semi detached and town house segments.
A Tale of 2 Real Estate Markets in Mississauga
This week, I pulled the numbers for all freehold listings and sales in Mississauga for the month of May. What it shows is that for homes priced under 1 Million, the market is still selling and there's not much excess inventory. However, when we look at the luxury market (over 1 Million) there is close to 8 month's worth of inventory, indicating a buyers market.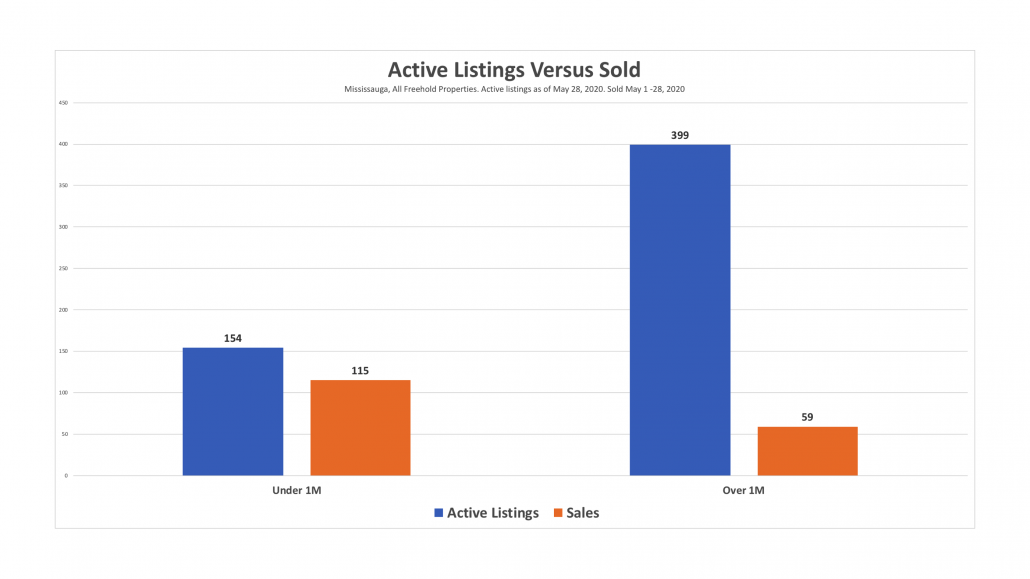 I hope you enjoyed this article and video. If you are interested in finding out more about your market or our services, feel free to contact me!
https://thevillageguru.com/wp-content/uploads/2020/05/GREATER-TORONTO.png
1080
1920
The Village Guru
https://thevillageguru.com/wp-content/uploads/2017/11/VG-Logo-Header-.png
The Village Guru
2020-05-28 20:04:54
2020-05-28 20:04:54
Toronto Corona Virus Real Estate Update #9